Trinity College London Speech and Drama Qualification
4000-699-898
Exam Registration
Scan to Register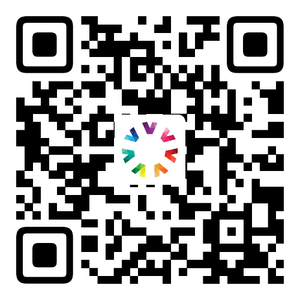 Trinity College London Speech and Drama Qualification
150 years history, assessing Speech & Drama and many more disciplines
Cover 60+countries worldwide with over 850,000 participants per year
Officially regulated by Ofqual, with up to
30UCAS points

awarded
Develop English communication skills, gain life-long core competencies
Record and submit video with flexibility, no real-time interaction required
ABOUT TRINITY COLLEGE LONDON
ABOUT TRINITY COLLEGE LONDON
Trinity College London is a leading international exam board and independent education charity that has been providing assessments around the world since 1877. They specialise in the assessment of communicative and performance skills covering music, drama, combined arts and English language. With over 850,000 candidates a year in more than 60 countries worldwide, Trinity qualifications are specifically designed to help students progress and explore.The aim is to inspire teachers and learners through the creation of assessments that are enjoyable to prepare for, rewarding to teach and that develop the skills needed in real life. Trinity's Graded Speech and Drama exams are designed to support candidates to develop a range of transferable skills that can have a positive impact in both education and the workplace. Communicative and performance skills are the core among them. Besides pronunciation, vocabulary, grammar and other basic language skills, intonation, cadence and body language etc. are the important abilities needed to enhance the expression and improve communication efficiency.
The exams are designed for candidates who want to focus on a variety of spoken and performance forms. Candidates will perform and show knowledge and understanding of a mixture of texts including plays, poetry and prose in a range of styles and from different periods.The exams assess the following skills through a range of contexts: Performance, Planning and preparation, Verbal and non-verbal communication, Interpersonal, Critical thinking and problem-solving, Research and reflection.
The exams are divided into 8 Grades, suitable for students who have a certain foundation in English to apply. Grade 6-8 have been included in the scoring system of UCAS (Universities and Colleges Admissions Service), Grade 6-8 qualifications are eligible for up to 30 UCAS points.
Exam Levels and Suggested Age
Exam Level

Level 1

Level 2

Level 3

Grade

Grade 1
Grade 2
Grade 3
Grade 4
Grade 5
Grade 6
Grade 7
Grade 8

Exam Duration

10min
12min
14min
16min
18min
20min
23min
25min

Suggested Age

7-9
8-10
9-12
11-13
13-15
15-17
16-18
16-18

UCAS Points

No
No
Distinction: 12
Merit:10
Pass: 8
Distinction: 16
Merit:14
Pass: 12
Distinction: 30
Merit:27
Pass: 24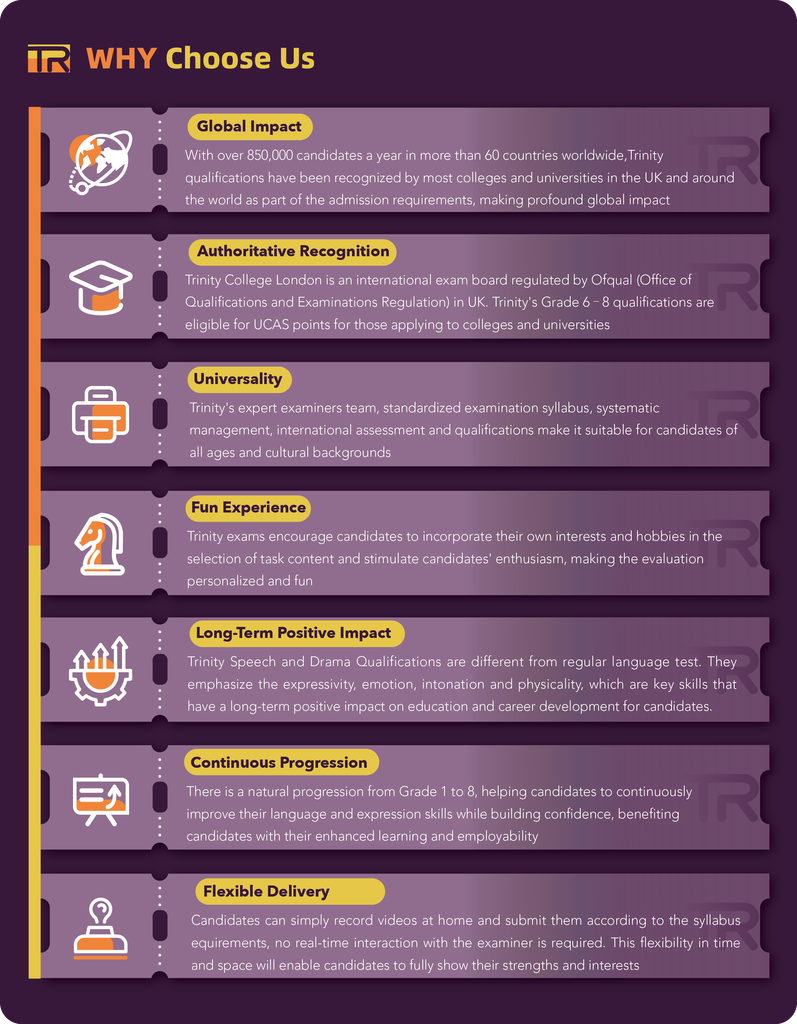 Exam Syllabus
Unless otherwise stated, all performance pieces should be taken from published works (not self-published). At Grades 7 and 8, the candidates can present a piece of unpublished work. This can be a piece of the candidate's own writing or from someone else. When selecting a piece, candidates should keep in mind that it should present opportunities for different interpretations, and for displaying the range of vocal and physical skills required at the grade the candidate is being assessed for.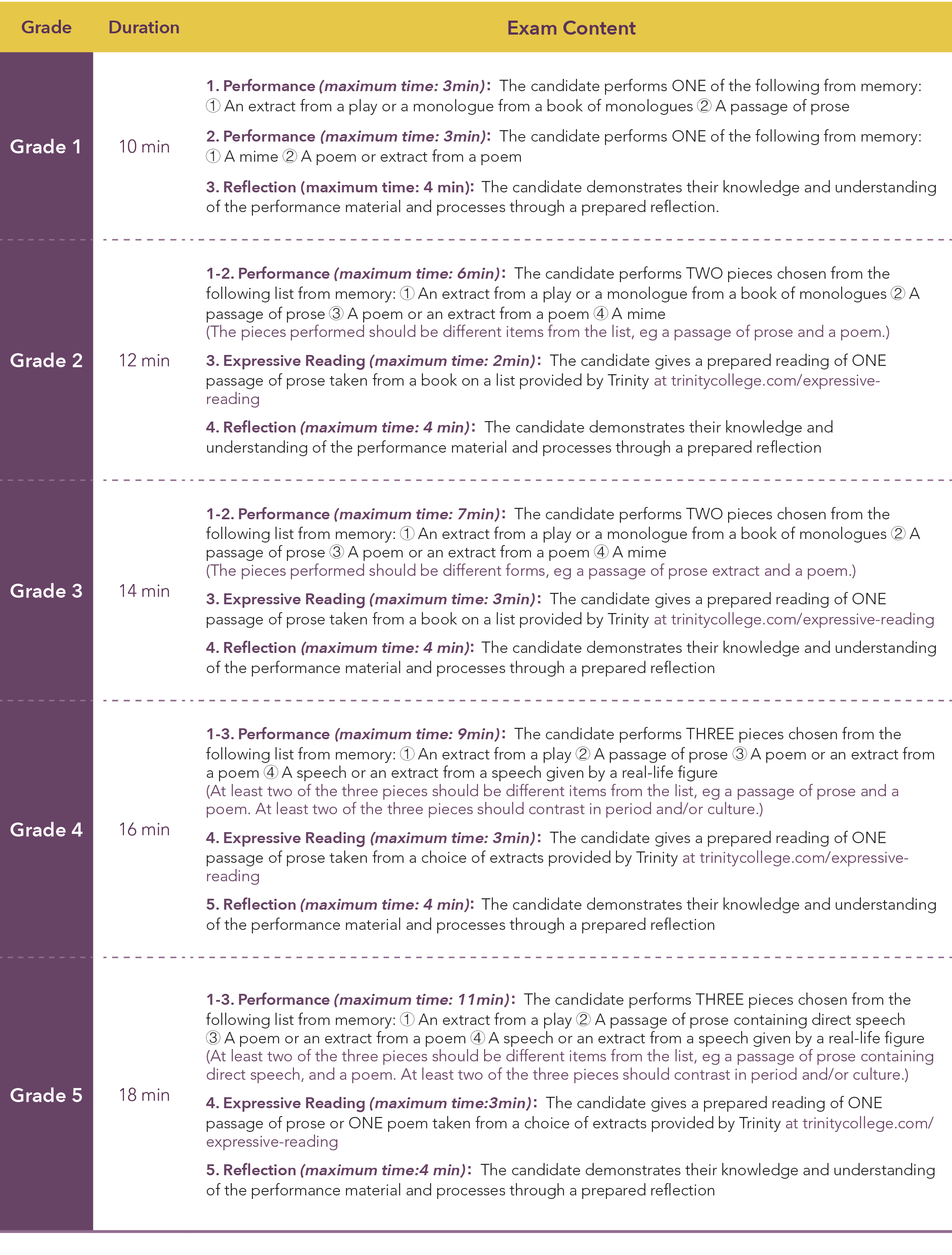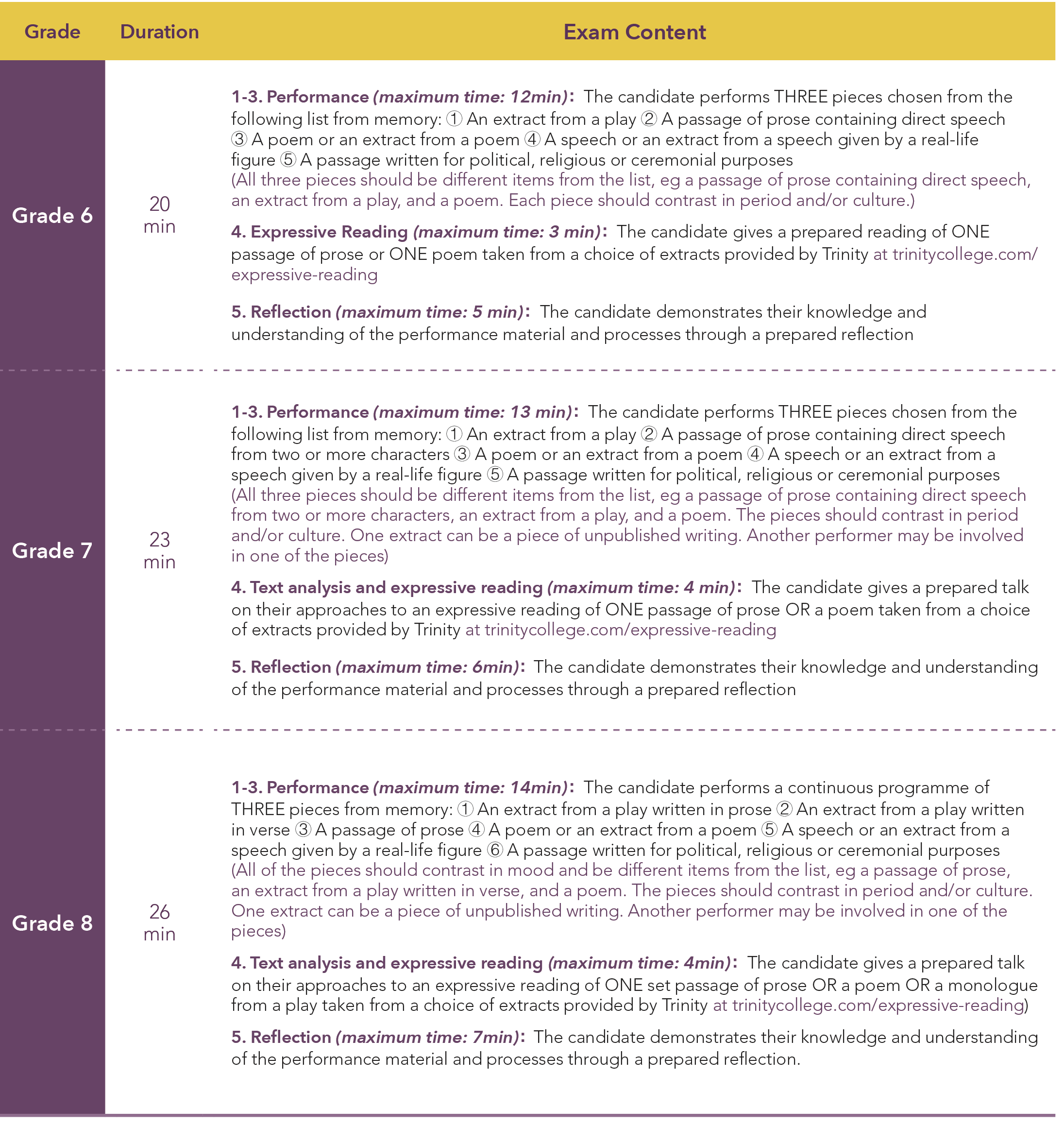 Certificates and Awards
Candidates who pass the exam will receive a recognition certificate and a professional performance report issued by Trinity College London, UK.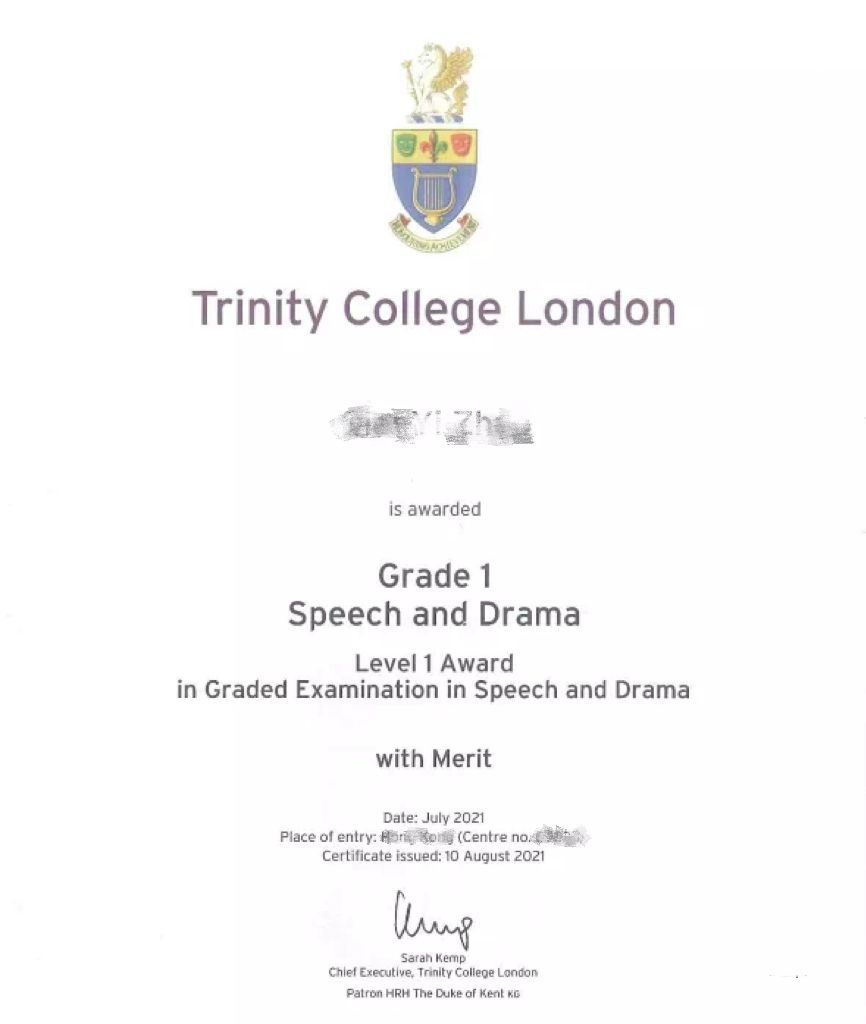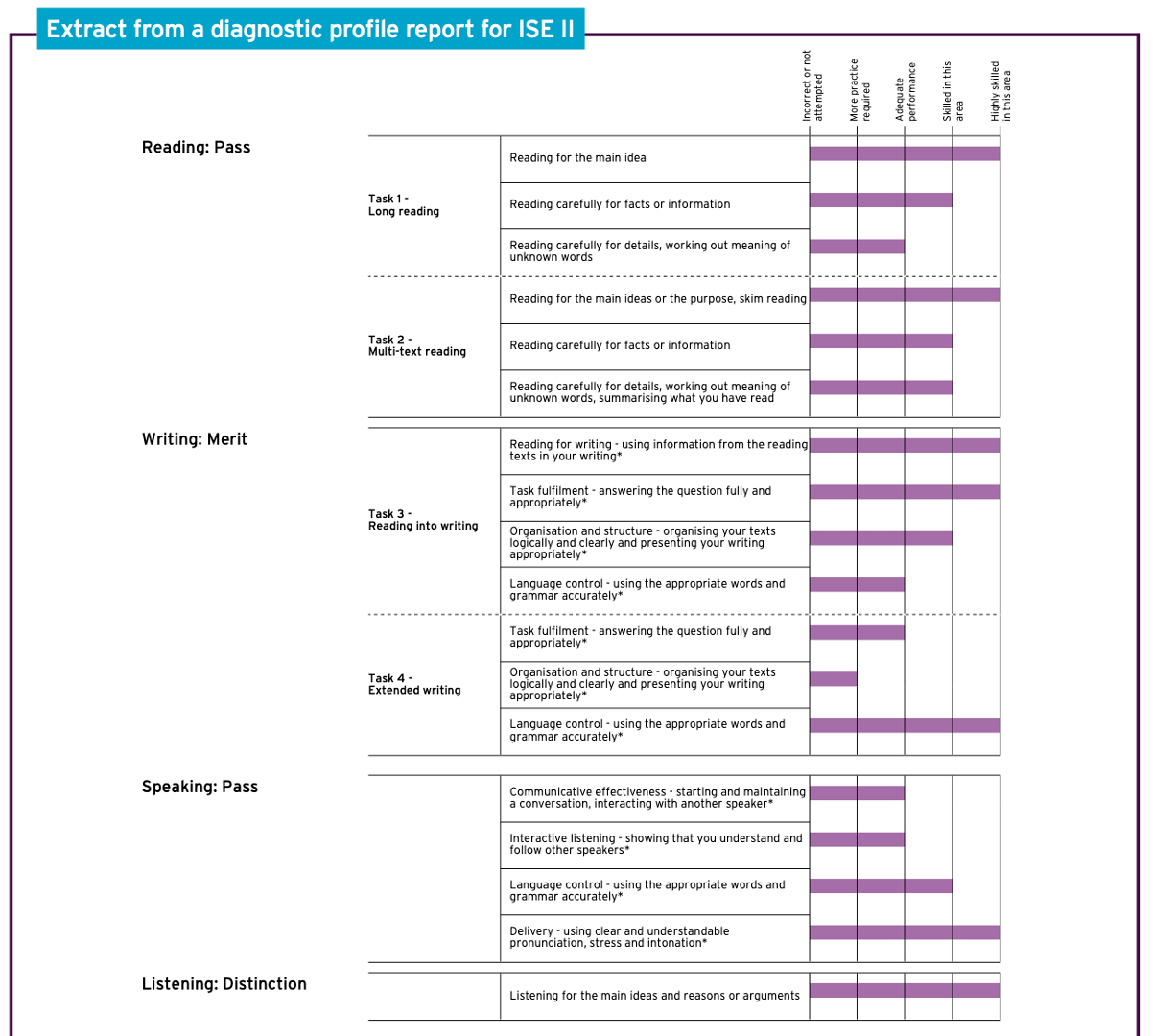 The exams are marked out of 100.
Candidates' results correspond to different attainment levels as follows:
85 or more: Distinction
75-84: Merit
65-74: Pass
64 and below: Below
Pass
Exam Date and Video Recording
Exam Date
23 September, 2023
21 October, 2023
25 November, 2023
23 December, 2023
20 January, 2024
24 February, 2024
23 March, 2024
Video Recording Requirements
1. Recording device: A high-quality audio-visual recording device with enough storage for your performance (eg a good-quality mobile phone, tablet, laptop or video camera). Please keep the device stable during recording. In the exams, the candidates' own ability to perform audibly and clearly is assessed. For this reason, external microphones must not be used.
2. In the exam, candidates must work through their tasks in the order in which they are listed in the syllabus.
3. Reflective response: The candidate should respond to the questions by announcing each one in turn followed by their response. Alternatively, a teacher/caregiver/ another student can ask the candidate the questions to facilitate their response.
4. Candidates need to expose their whole body in the camera, and keep the performance space bright and clear, and the background quiet and not noisy.
5. All performances must be submitted as one continual performance (this includes all pieces and any key skills tasks such as sight-reading, and the reflective response). Start the recording before your first piece, and do not stop or pause the video until you have completed all parts of the assessment. Any evidence of editing will result in a syllabus infringement and your exam will not be assessed.
6. Audio and video must be recorded simultaneously and no pre- or post-production techniques should be applied to the video.
7. You may not enter the same performance video for the same exam more than once, unless Trinity requires you to resubmit your video (eg for technical reasons). You may not share your performance video on social media, or use it for any other exam entries, either with Trinity College London or any other exam board.
8. Candidates must send the video to the email address of the organizing committee at trinity@seedasdan.org at least 3 days before the exam date. The subject of the email must be "Candidate's Name + Exam Grade". 【考试说明】
Exam Language: English
Delivery Method: Record a complete performance video according to the syllabus on the official website and send it to the email of the organizing committee at least three days before the exam date.
Exam Process: Registration — Choose the exam date — Visit Trinity official website, and download the Expressive Reading material required for the exam — Prepare for the exam — Record the exam video (All performances must be submitted as one continual performance) — Send the video to the email address trinity@seedasdan.org at least three days before the exam date. (Expressive Reading material download URL:trinitycollege.com/expressive-reading)
Exam Duration: Each level has a time limit, and candidates must ensure that the total performance time does not exceed the specified time. Candidates may combine shorter and longer pieces to fit the total time. Candidates should ensure that their performances could fully demonstrate the skills they possess.
Dress Code: No fixed dress code required, candidates can wear clothes that are comfortable and allow for movement. There is no requirement to use props. If candidates would like to use them, please ensure that the total performance time does not exceed the specified time. Candidates will not get extra points for using props.
【Exam Fees】
Including:Exam Registration fee, Certification Application fee, Professional Examination Report fee, Certificate/Examination Report Delivery fee (to Mainland China only), etc.
Registration Deadline:The deadline for registration is 4 weeks before the exam, after which transfer and refund will not be accepted.
Regional Academic Specialists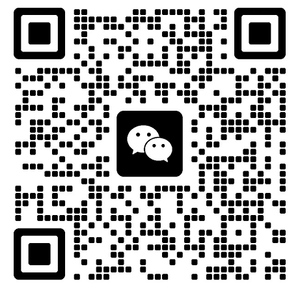 Ms Zhang 13269709296
North China:
Beijing、Tianjin、Shanxi、Shandong、Hebei、Henan、Inner Mongolia、Heilongjiang、Jilin、Liaoning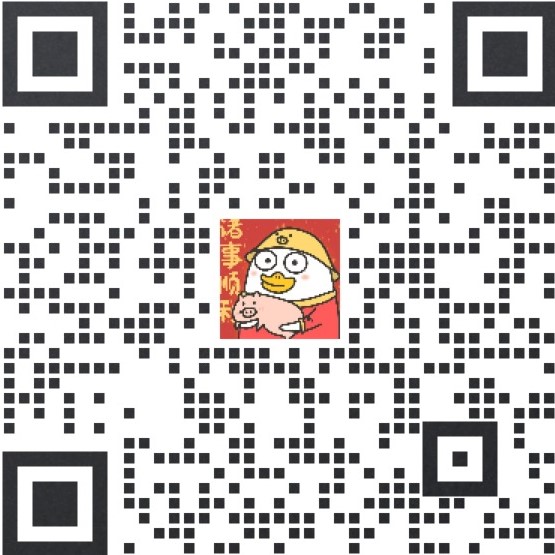 Ms Wang 15618633087
East China:
East China:Zhejiang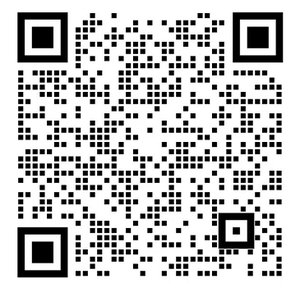 Ms Wu 13166025498
East China:
East China:Shanghai、Jiangsu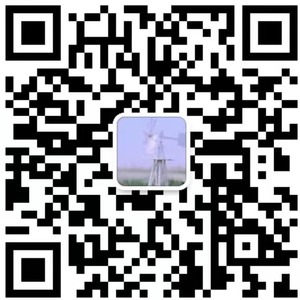 Ms Li 15507502864
South China:
Guangdong、Guangxi、Fujian、Hainan、Hong Kong、Macao、Taiwan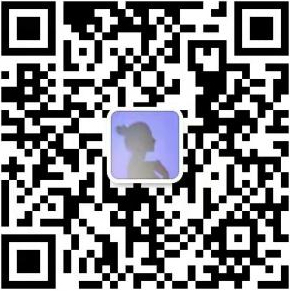 Ms Li 18502808484 
West China:
Chongqing、Sichuan、Guizhou、Yunnan、Shaanxi、Gansu、Qinghai、Tibet、Ningxia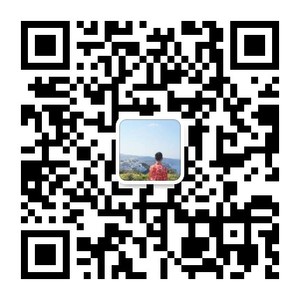 Mr Wang 13086629260
Central China:
Hubei、Hunan、Anhui、Jiangxi、Xinjiang
1. What preparations should candidates have before the exam?
A: Firstly, candidate must understand the exam process, rules and content, carefully read the exam preparation guide and then prepare. Please visit the Trinity website trinitycollege.com/expressive-reading to download the expressive reading materials required for the exam (except for Grade 1), then make preparations and record the exam video.
2. What are the requirements for the exam video recording space?
A:It's suggested to record in a space of no less than 2-2.5 square meters, with a preferably clean walls/wallpapers as background. Keep the lights bright so the candidates' movements and expressions will be seen clearly. There should not be too much shadow which may distract the examiner.
3. Can candidates record video multiple times?
A:Yes, but all exam content should be recorded coherently at one time, the video cannot be edited or beautified, and the video can only be sent to the organizing committee once. If the video is sent multiple times, the organizing committee will take the video received for the first time as the final submission.
4. How long is the exam? Is the exam duration same for each grade?
A:The exam duration for each grade is different, ranging from 10-25 mins. Please refer to the exam syllabus for more details.
5. Can candidates register for the exam below or above their age level?
A:Yes. The recommended ages for each level listed are for reference only. Candidates can choose any grade to register according to the actual English language and skills level.
6. Can candidates take exams by jumping levels?
A:Yes. Candidates can choose to challenge any higher-level exam after passing a certain level of exam. There is no restriction on the age of candidates to any exam grade.
7. After the exam, how long will it take for candidates to get the exam result, exam report, and certificate?
A:Candidates will get results 4-6 weeks after the exam. Paper certificates and reports will be sent to the ASDAN China exam center 6-8 weeks after the exam, then will be mailed to candidates.
8. If the candidate is young, can parents help to ask candidates questions?
A:At Grades 1–3, the facilitator can also ask a prompt question to encourage response. For example, the facilitator might ask the candidate how they practised their pieces. The candidate tells them how they practised their story but forgets to mention how they practised their poem. Therefore, the facilitator can prompt about the poem.