2023 Technovation Girls
The largest Technovation and Innovation program for girls in the world
Teams made of girls aged 8 to 18
3 rounds of advancement (National Round, Global Round, World Summit)
3 types of skills: app development + business thinking + problem-solving skills
countries across 5 continents

Introduction
Technovation is a global technology education nonprofit organization founded in 2006 with the mission of "Girls for a Change". It encourages young girls to use technology to change the world, and become leaders, innovators, and problem solvers. Each year, Technovation invites teenage girls aged 8-18 from around the world to work in teams to write mobile apps to solve real-world problems. In 2021, 17,000 students participated in the Technovation program and created 1,700 apps to improve the world.
Providing rural communities with clean drinking water, developing a tool that identifies and removes invasive species, building an air quality monitor, designing apps to detect deadly fake drugs, and helping autistic children connect with the outside world --- These are the creations of girls around the world participating in Technovation challenge.
Technovation incorporates United Nations' 17 Sustainable Development Goals (SDGs) into its program. It encourages students to identify a problem in their communities related to an SDG and design technology products to solve the problem. In 2021, Technovation announced an official partnership with the United Nations Office for Outer Space Affairs (UNOOSA) to target climate change issues, and became a member of the UNESCO Global Education Coalition.
In 2022, ASDAN China established a strategic partnership with Technovation as the organizing committee of Technovation China, aiming to help more Chinese young girls who love science, technology, and innovation to reach their potential.
Global Footprint
To date, students participating in Technovation activities have covered more than 100 countries on 5 continents.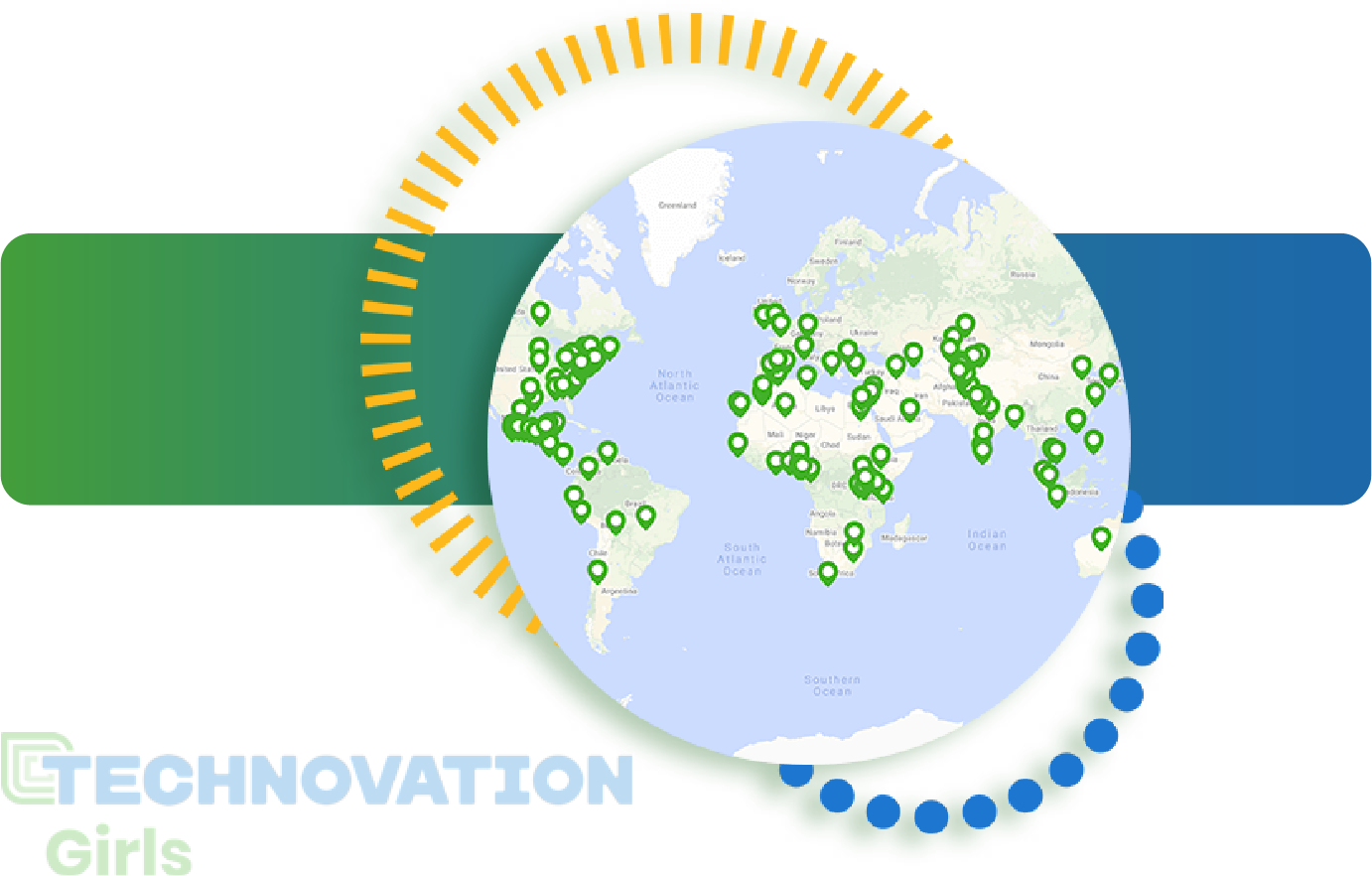 Advancement and Eligibility
National Round
Time: September 30th - October 5th, 2023
Format: offline competition participated by teams of 3-5 students
Global Round
Time: January 2023-April 2023
Format: Students submit an entry for selection. Winning teams from China will be invited to participate for free.
World Summit
Time: August 2023
Format: online/offline


>
Eligibility
Group Division:
Beginner Division: For girls aged 8 to 12 ( born between July 31st, 2011 to August 1st, 2015 )
Junior Division: For girls aged 13-15 ( born between July 31st, 2008 to August 1st, 2011 )
Senior Division: For girls aged 16-18 ( bron between July 31st, 2005 to August 1st, 2008 )
The age of the oldest team member determines the age division of the team.
Teenage girls between the ages of 8 and 18 who have any of the following traits are eligible to apply for participation:
Students with the ability to think independently about social issues and want to make a change to certain real-life problems.
Students who have an interest in technological programming and a love of computer science (no basic programming requirements).
Students who are interested in video shooting, editing, and design.
Students who want to be a future entrepreneur in the Internet and technology field.
National Round
Time:September 30th - October 5th, 2023
Location:Shanghai
In Techonovation Girls National Round, students will learn about social issues research methods, app design thinking and programming tools, marketing strategy, and business plan. They will apply their knowledge to practice by completing three team tasks, during which they will gain a deep understanding of the changes brought by technology to the real world and develop an entrepreneurial mindset to become future business elites. The transferable skills they learned in the event, such as problem solving and innovation, will help students to succeed in any field in the future.
Participation Form:Teams of 3-5 students
---
Academic Modules :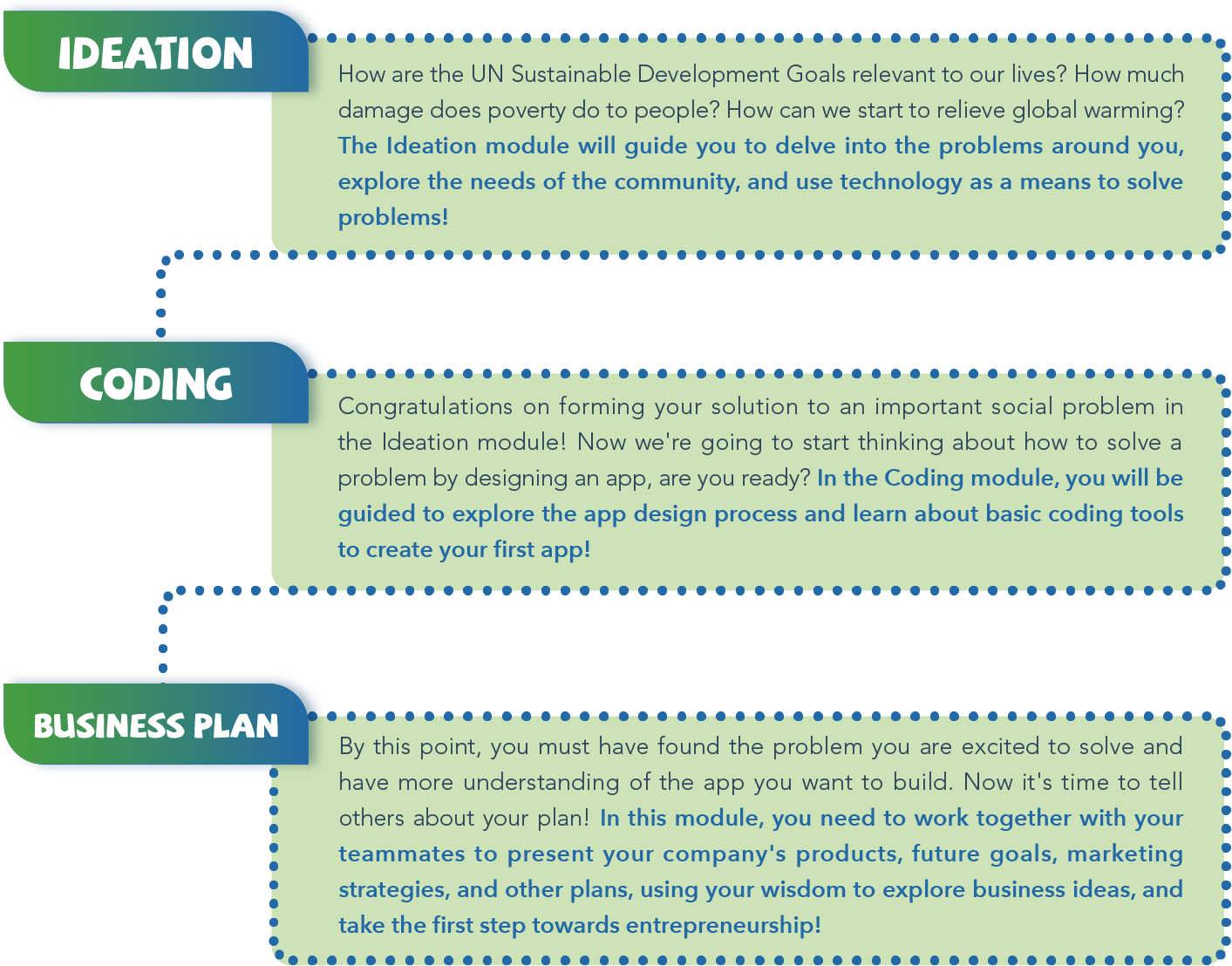 ---
Agenda:
Date
Morning
Afternoon
January 14
/
Opening Ceremony
Ideation Module
1. Identify Social Problems
2. Brainstorm Solutions
Bonus Round 1: SDG Quiz
January 15
Team Task 1: Problem Targeting
In the project, you will work with your teammates to identify a problem that you would like to solve in your community that contribute to the UN SDG, and brainstorm innovative solutions to the problem. You will also make plans to create a new technology product to solve the problem and add values to the world!
Coding Module
1. App design process
2. APP development tools
Bonus Round 2: Create a Fun App!
January 16
Team Task 2: Technology Prototyping
In the project, your team will sketch out what your project looks like by developing an early model of your app. Your prototype will demonstrate how the user interface might look like, what functions the app is designed to have and how it meets the need of the users!
Business Plan Module
1. Entrepreneur mindset
2. Marketing strategy and business plan
Bonus Round 3:Elevator Pitch
January 17
Team Task 3: Business Proposal 。
In the project, you will present a proposal to the judge panel about your company, your goals, and how you will achieve your goals. You are also expected to explain how your product has advantages over the competition, how you will promote your product to potential users and how you make money to sustain your company.
Closing Ceremony: Learning Journey Sharing + Awarding Ceremony
Notes:All workshops and trainings will be conducted in Chinese, and all Team Challenge Projects and Bonus Rounds will be conducted in English.
---
Scoring weight of each project:

Team Task 130 points

Team Task 2 30 points
Team Task 3 40 points
Bonus Rounds 30 points
---
Awards:
Team Overall Awards (awarded to the three teams with the highest overall scores in all projects):
Champion Team, Runner-up Team, Third runner-up Team
Team Winning Award: Top 30% of teams in overall scores
Global Round Advancement Qualification:
The top 30% teams in the overall scores will be invited to participate in the Global Round. Advancing teams can attend the Global Round briefing event and have the opportunity to attend one preliminary review session to receive feedback on their project before submission for the Global Round.
-Team Project Awards (awarded to the winning team in each task project):
The Best Ideation Team Award
The Best Technology Prototype Team Award
The Best Business Plan Team Award
Individual Special Awards (awarded to individual participants with outstanding performance in Bonus Rounds):
SDG Knowledge Champion
App Design Champion
Elevator Pitch Champion
Certificate: All participants in the National Round will receive a certificate of participation.
---
Registration
Registration deadline: December 18, 2022
Global Round
How to Participate:
Teams will submit their work in accordance with the official requirements of Technovation.
Requirements:
Teams need to submit a project description, a product pitch video, a product demo video, application source code (MIT APP Inventor, Thunkable or other programming languages are acceptable) and other supporting materials. For the Junior Teams, a user adoption plan is required, and for the Senior Teams, a business plan is required.
Project Language: English
Key Dates:
January to March, 2024: Ofcial Start of Season
April, 2024, Submission deadline
May-June 2024, Announcement of Global Round Finalists Results
August 2024, Technovation World Summit
Learning Resources:
12 weeks of free online tutorials (40 hours in total) are provided, Including five sections, Ideation, Coding, Entrepreneurship, Pitch, and Artificial Intelligence.
Awards
Teams that submit entries will be judged with other teams from around the world, and the winners will be announced between May and June 2024.
• Technovation Girls Awards:
Finalist Team
Grand Prize Winners
Technology Award
Social Impact Award
People's Choice award
• Regional Winners: One team from each of the five regions (Africa, Asia & Oceania, Europe, North America, Latin America)
• Special Prizes: The Climate Prize: 1 team will be selected (each team member will receive a $500 prize) Special Prizes TBD: Announced at the World Summit
The above awards are subject to changes.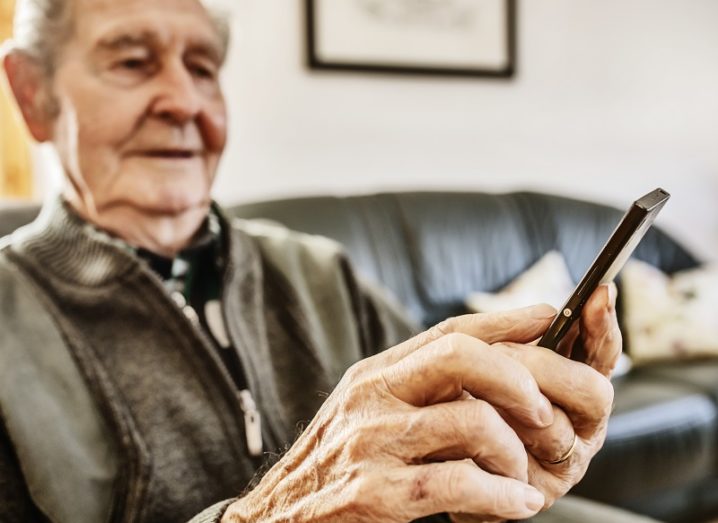 Awards: 2020 1st Place
From Country:Ireland
Title of Entry:Memory Haven
Description: Memory Haven is mainly used by dementia patients and caregivers. The app's functions address three problems faced by dementia patients: memory loss, difficulty in facial recognition and difficulty in speaking. For example, Memory Haven's reminder feature can remind patients and caregivers when to take their medication, while the photo album feature allows users to upload photos of patients' loved ones and friends to help them practice identifying people. In addition, the app is set up with a music function to soothe patients and mitigate the effects of Alzheimer's disease.
Award: 2021 1st Place
From Country: USA
Title of Entry:CO2 Sensei
Description:The MDS team from the United States noticed that a key factor in the increased risk of Covid-19 transmission was poor ventilation - the virus spreads more easily in crowded, airtight buildings. The app, called CO2 Sensei, helps users measure the quality of their environment by detecting CO2 levels based on the principle that CO2 levels can reflect the ventilation of space, and gives users advice on how to improve ventilation.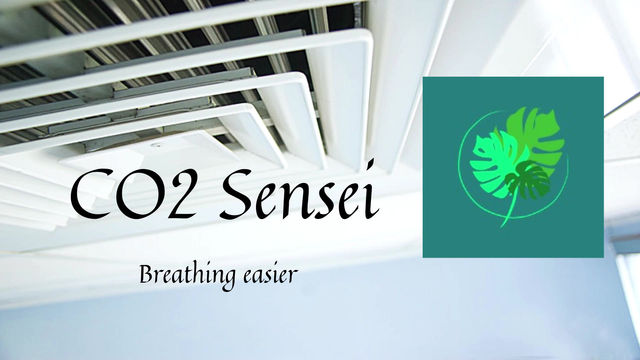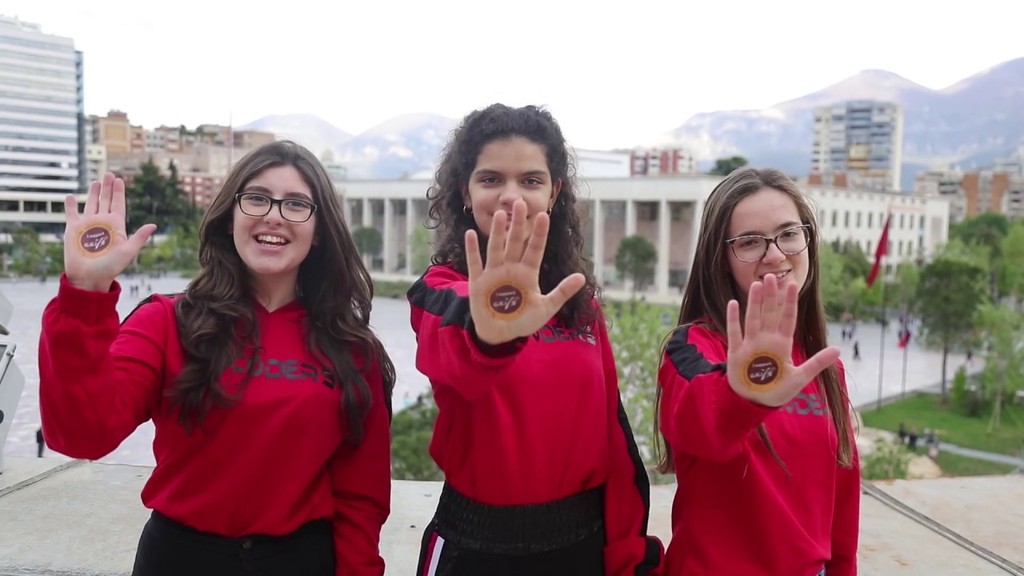 Awards: 2019 1st Place
From Country:Albania
Title of Entry:GjejZâ
Description: The D3c0ders team consists of three girls from Algeria. They designed GjejZâ, an app to help women who are victims of domestic violence. GjejZâ not only simplifies the process for victims of domestic violence to seek help, but also creates a set of exercises to help users break down misconceptions about domestic violence on a cognitive level. GjejZâ also shares success stories of other survivors of domestic violence and gives women legal, psychological and medical counseling options. gjejZâ even has a feature designed to help women find job opportunities and an SOS menu with an emergency hotline.
Technovation Girls' Voice
"The important thing about this contest is not to win but to learn more about technology and how to start a business from scratch and that is why it is important to put effort into it and do it well, to really learn."
-Raquel, 2021 participant (from Spain)
"Technovation Girls, transformed my life, turned me into an innovative person, made me feel that I could create solutions to improve the quality of life of society."
-Guadalupe, 2021 participant (From Mexico)
"I was able to create my rst app and gave a pitch presentation. There are many features I want to add to make the app even better."
-Arya, 2021 participant (from USA)
"It was nerve-racking at rst as this was my rst time participating in a world-wide competition, but the whole journey was fun and enhanced my knowledge in various technological aspects which goes the same for my fellow teammates."
-Kavya, 2021 participant (from India)
"My goals for this Technovation season were to learn how to code and have fun building an app with my friends and both of those were achieved, despite the online and covid challenges."
-Evva, 2021 participant (from Canada)
"Our team was composed of girls from all over the country... Technovation brought together 5 girls who didn't even know each other beforehand, allowing them to work on a project that they believe can impact their community. I learned so much working with them!"
-Nicole, 2021 participant (from Brazil)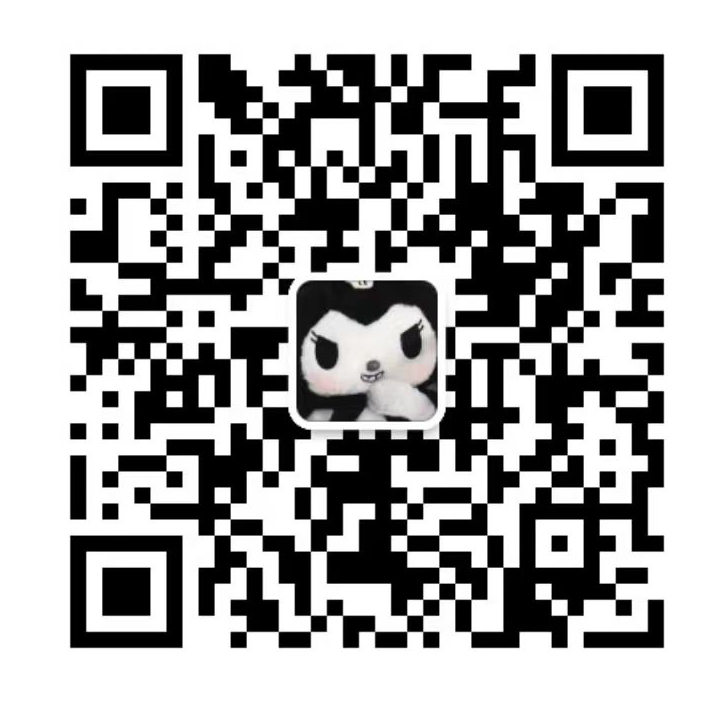 Ms.Wang
North China:
Beijing, Heilongjiang, Jilin, Liaoning, Shanxi, Shandong, Henan, Hebei, Tianjin, Neimenggu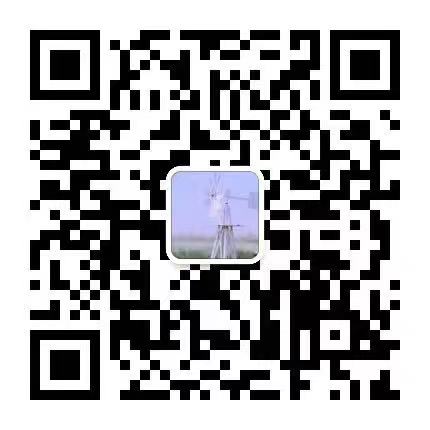 Ms.Li
South China:
Shenzhen, Zhongshan, Zhuhai, Fujian, Hongkong, Macao, Taiwan, and overseas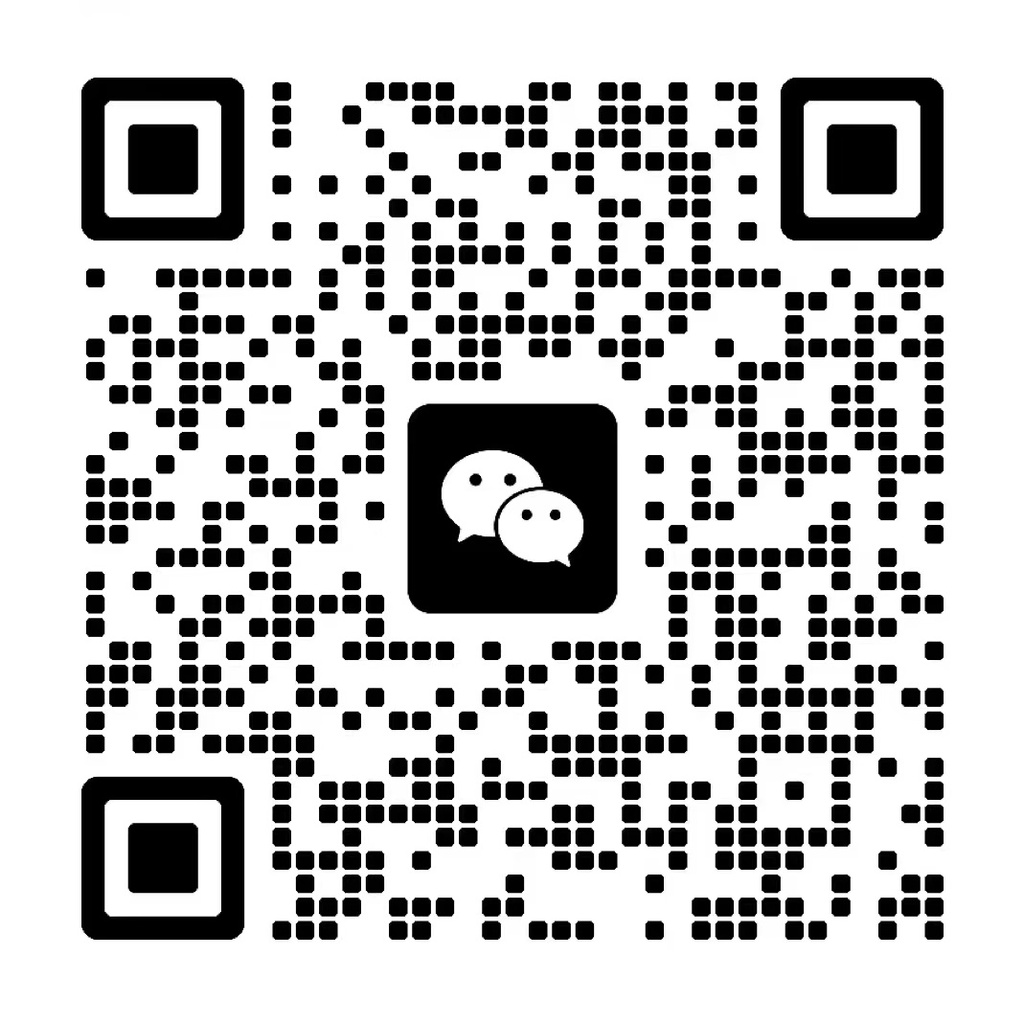 Mr.Xiao
East China:
Shanghai, Jiangsu, Zhejiang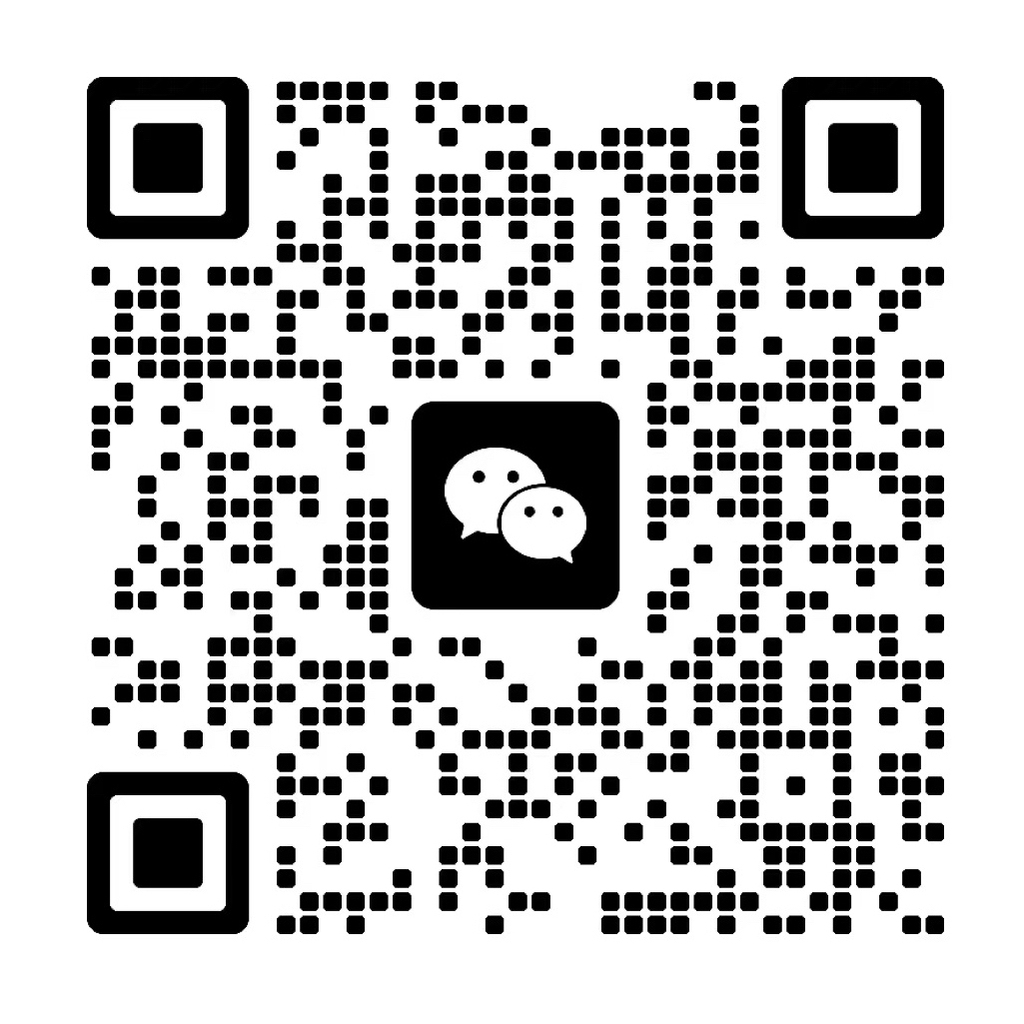 Ms.He
West China:
Hunan, Hubei, Anhui, Xinjiang, Jiangxi, Sichuan, Chongqing, Shanxi, Yunnan, Guizhou, Ningxia, Gansu, Qinghai, Xizang