NEA English Drama and Speech Online Certification
70 years history, one of the top three Drama Awarding Organisations in UK
English online drama certification officially authorized by OFQUAL, for students aged 5-18
Up to 60 UCAS tariff points awarded
Rich contents and forms of grading examination with multiple disciplines including solo acting, mime, group performance, public speaking, musical theatre etc.
Committed to cultivating language skills, expressive art, self-confidence, and creativity in drama education and certification
Invitation Letter
Hello, young drama artists in China!
Welcome to the world of drama and art! On behalf of NEA (New Era Academy), I would like to express my warm welcome to you all! Let's explore this amazing journey of drama, arts and creation altogether!
In the past 70 years, NEA, as one of the top three professional drama awarding organisations in UK, has provided professional certification examinations for tens of thousands of young people with talent and passion in hundreds of countries and regions around the world. We have also witnessed many students starting from NEA to explore their own learning and career development path of drama and art.
In 2021, we are very excited to start strategic cooperation with ASDAN China and work together to provide international professional drama certification for students in China. We help you set sail on the stage of life!
Drama is everywhere. Every written language, body expression, rhythm and rhyme shapes the distinctive role of yourself, and makes you a unique performer on the stage of life. We believe that every one of you is a natural performing artist, with the guts and charm to attract the spotlight of stage. We hope that the starlight of drama and art will light up your way to explore the future. Come on, young Chinese drama artists! The stage of creation for everyone is ready there. We are waiting for you and looking forward to witnessing your brilliance!

Miranda Jacobs
NEA Academic Director
About NEA
NEA (New Era Academy), founded in 1941, is one of the leading drama certification boards in the UK, regulated and recognised by OFQUAL and QCA. Its purpose is to encourage and cultivate learners to express themselves through oral and body language and explore their self-worth. NEA is an innovative examinations board, offering diverse and varied disciplines through well structured syllabi. NEA encompasses the fast paced, ever changing world around us within its examinations, allowing learners to develop their creativity and imagination, enabling them to grow their skills to fit their environment. Learners can obtain UCAS Tariff points at level 3, enhancing their chances of university or higher education entrance.

NEA syllabi contain a large variety of disciplines including solo & group acting, musical theatre, devised drama, Shakespeare, etc. In China the following selected disciplines are currently offered:
Group Performance
General Objectives:A stage scene or play performed by a group of examinees.
Learning and Development:Imagination and creativity | Stagecraft | Vocal Techniques | Spatial Awareness | Physicality | Characterization
Group Size:3-10 people (For groups of over 10 people, please make special request to ASDAN exam committee).
Groups of 3-6 people, each learner will have an individual report, and mark along with their certificate. Mixed grades are accepted, with an additional discussion session required with the examiner in groups of 3 after the performance. UCAS POINTS will be awarded for Grade 6-8.
Groups of 7-10 people, reports are made for the entire group. Each learn will get a certificate. NOT applicable for UCAS tariff points for any grade.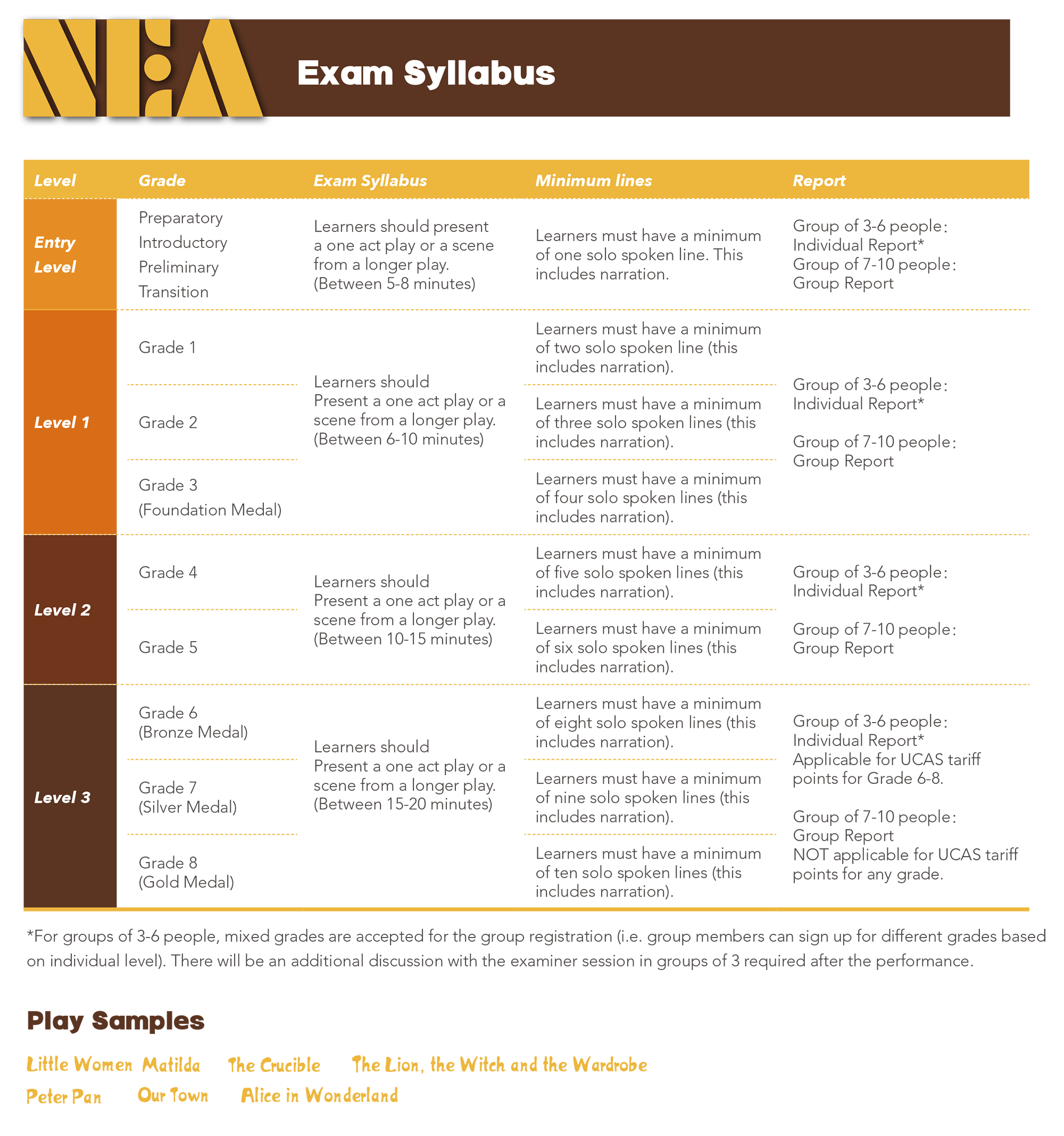 Solo Performance
General Objectives:
1. Acting:Candidates perform solo acting pieces to show stage performance skills, stagecraft, vocal techniques, characterization, etc
2. Mime:Candidates perform mime pieces to show rich facial and body language; create vivid acting scenes in pure silence.
Learning and Development:Imagination and creativity | Stagecraft | Sight Reading | Vocal Techniques | Spatial Awareness | Physicality | Characterization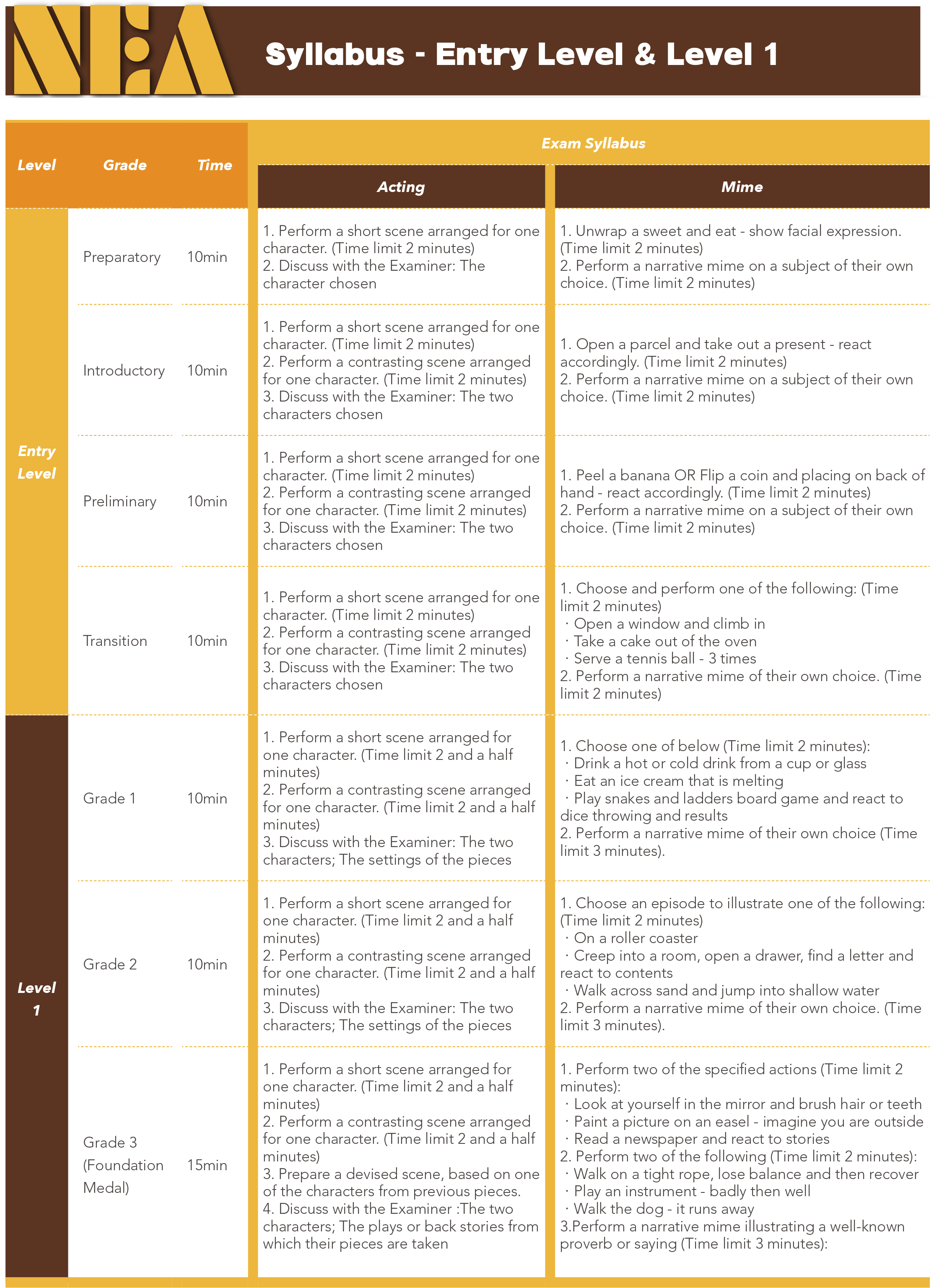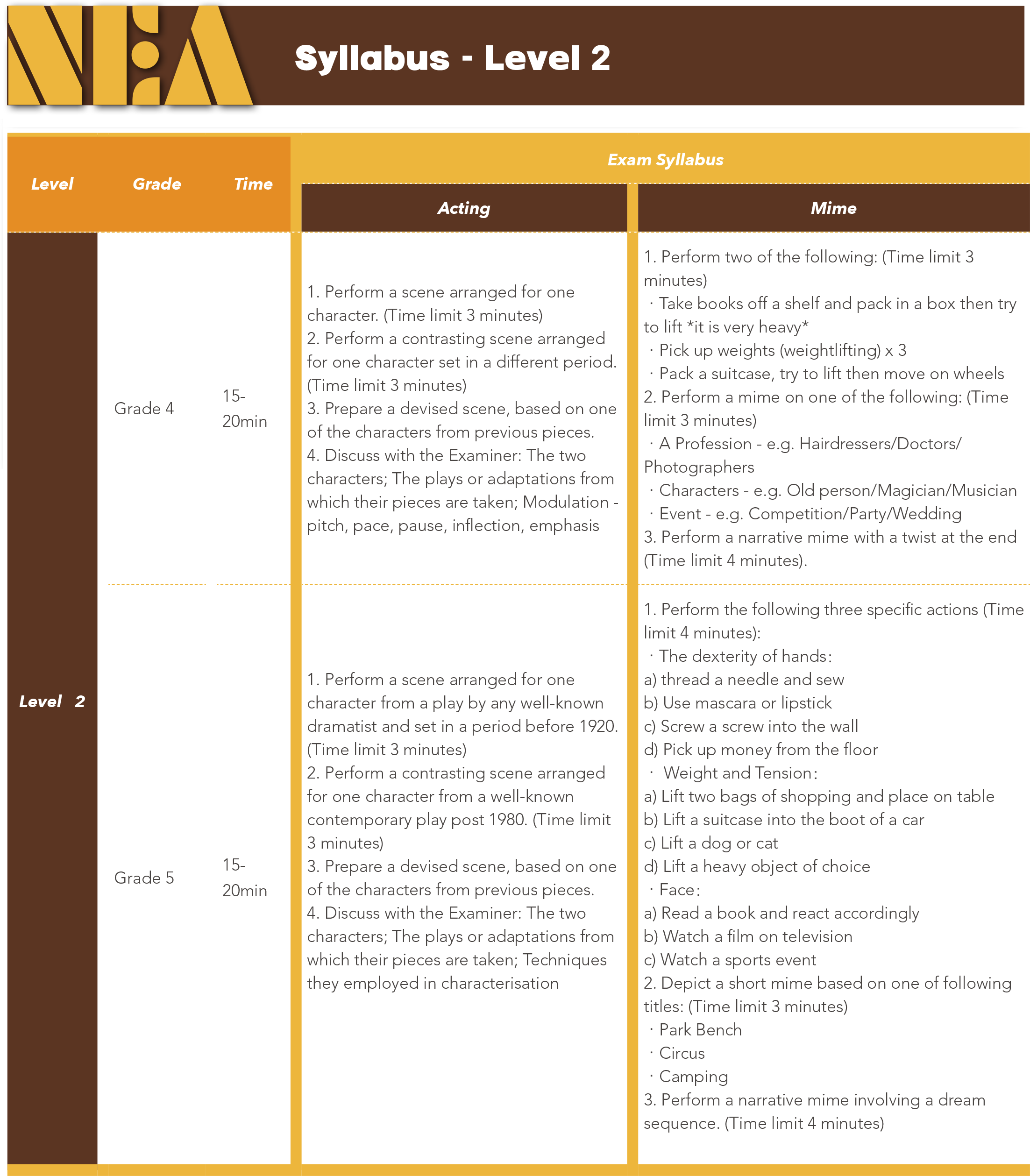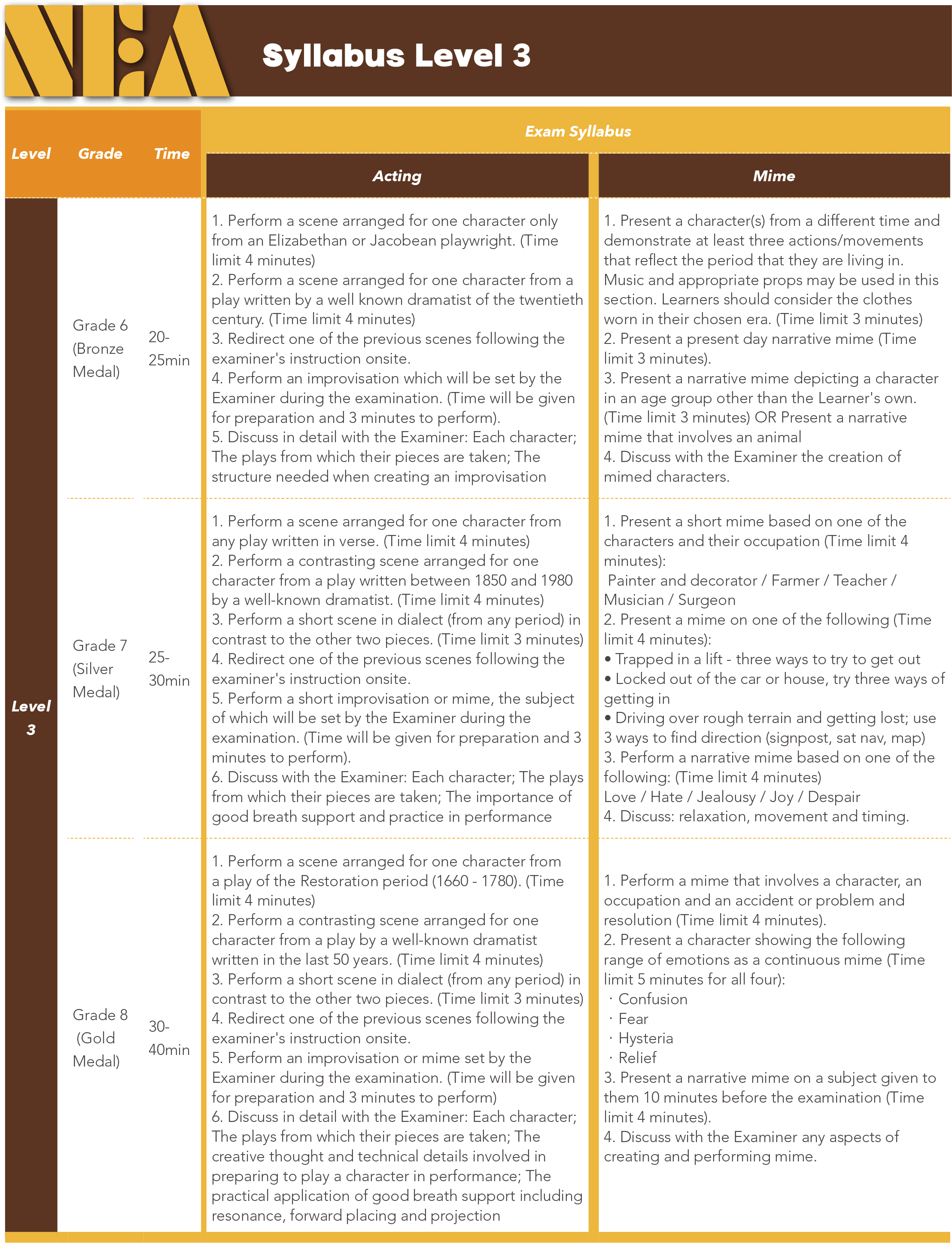 Public Speaking
(Solo only) Candidates deliver speeches on various topics to express ideas calmly, clearly, and coherently.
Learning and Development: Vocal Techniques | Self Confidence | Planning | Speech Construction | Presentation Skills | Communication Skills | Clear Speech | Clarity of Though | Sharing of Ideas | Engaging Audience Interest
Musical Theatre
NEA's Acting examinations allow candidates to develop technical, interpretation and communication skills as set out in the NEA Syllabus through: Imagination and creativity, Stagecraft, Sight Reading, Vocal Techniques, Spatial Awareness, Physicality, Characterisation
Performing Request: perform 1-3 songs with different styles, perform a short scene in character leading into a song of their own choice
Understanding Request:discuss with the Examiner: the story of the musical, the composer or the lyricist,  singing techniques etc.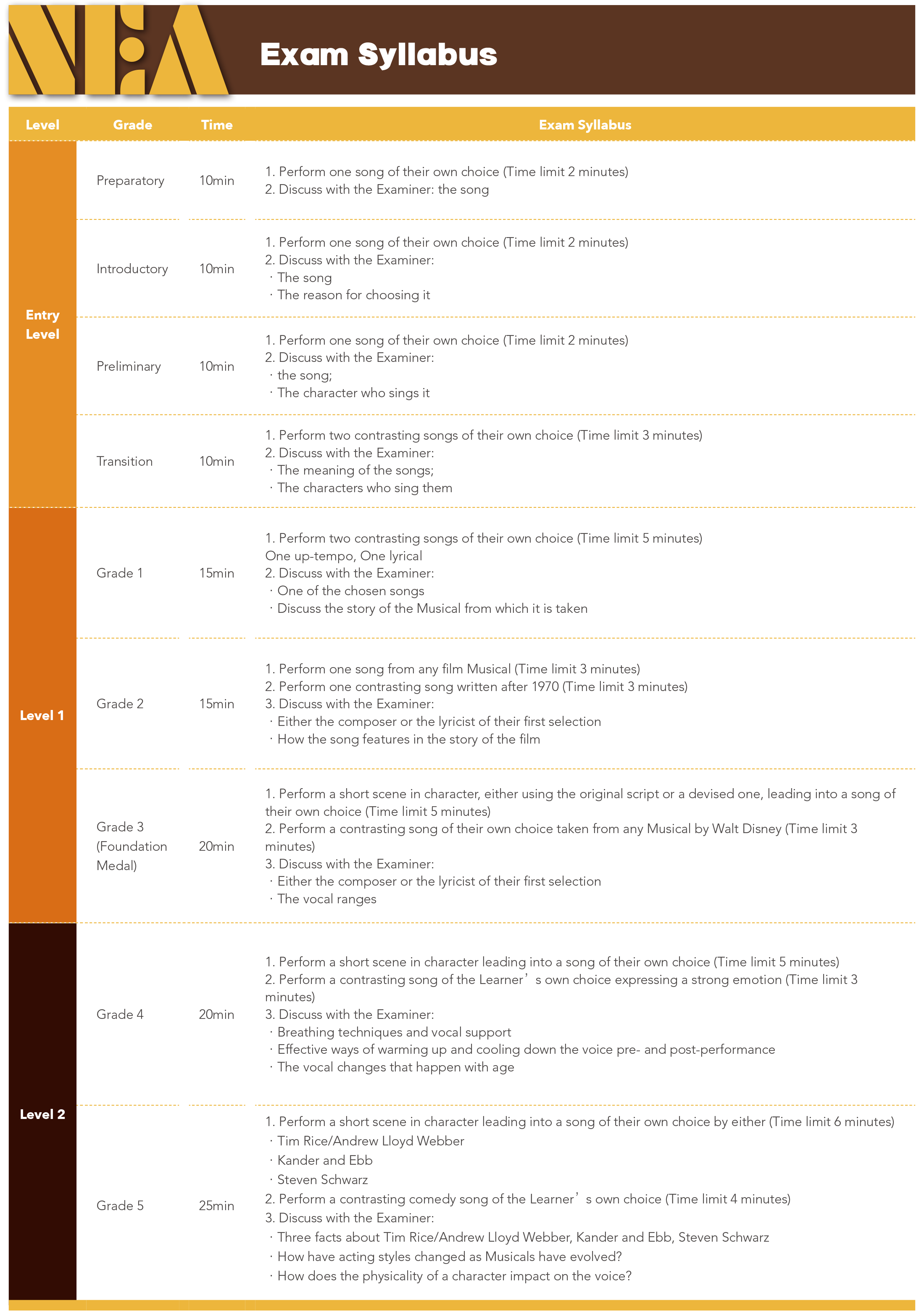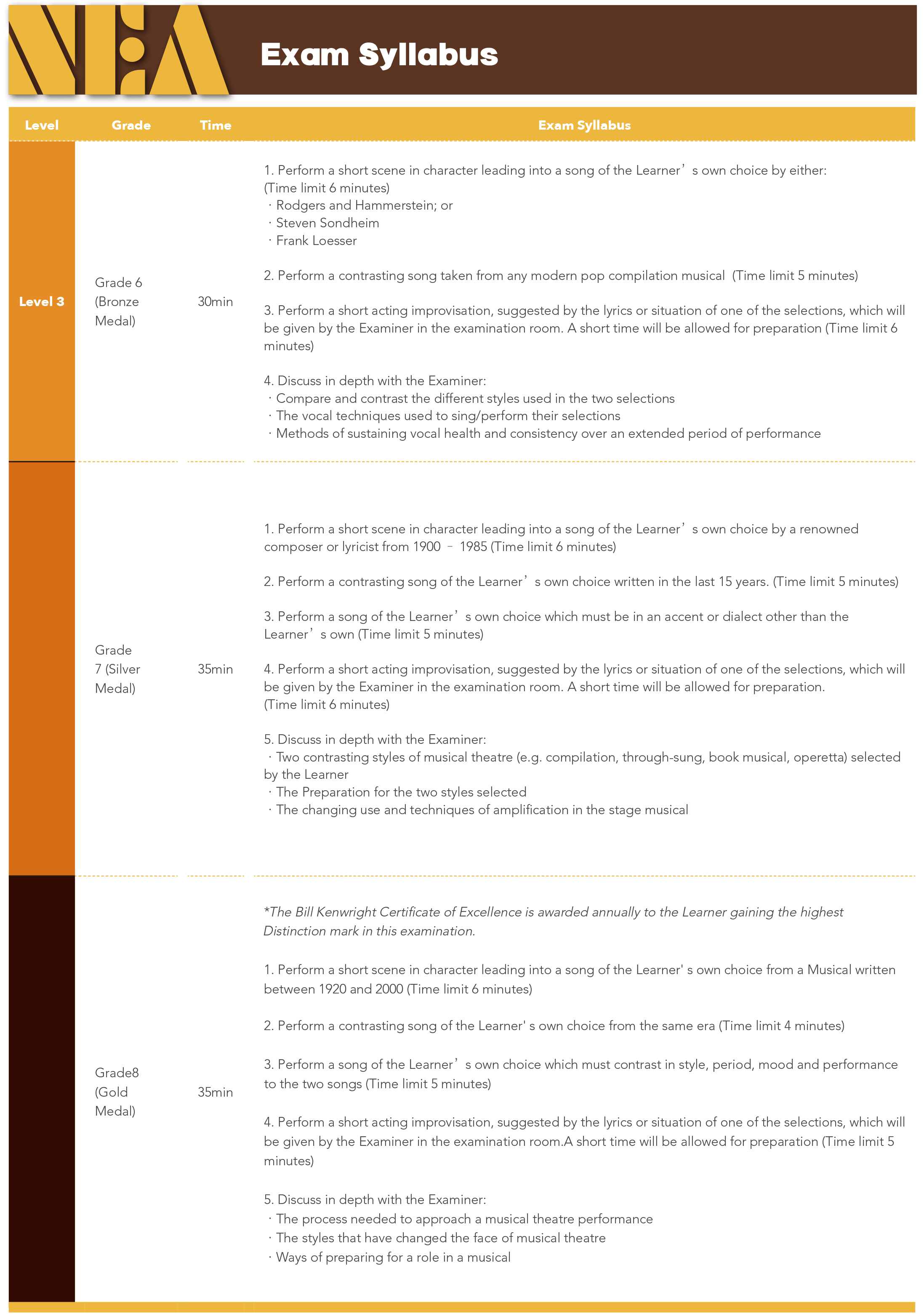 Grades and Suggested Ages
Grades and Suggested Ages
Grades and Suggested Ages (for reference only, candidates can choose any grade to register based on individual level)
As public speaking and drama (acting, mime, group performance) are two independent categories, candidates passing exams from two categories can earn cumulative UCAS points. For example, candidates who sign up for the Grade 8 solo acting/mime exam can also sign up for the public speaking exam. If he/she achieved distinction on both exams, he/she would get a total of 30+30=60 UCAS points.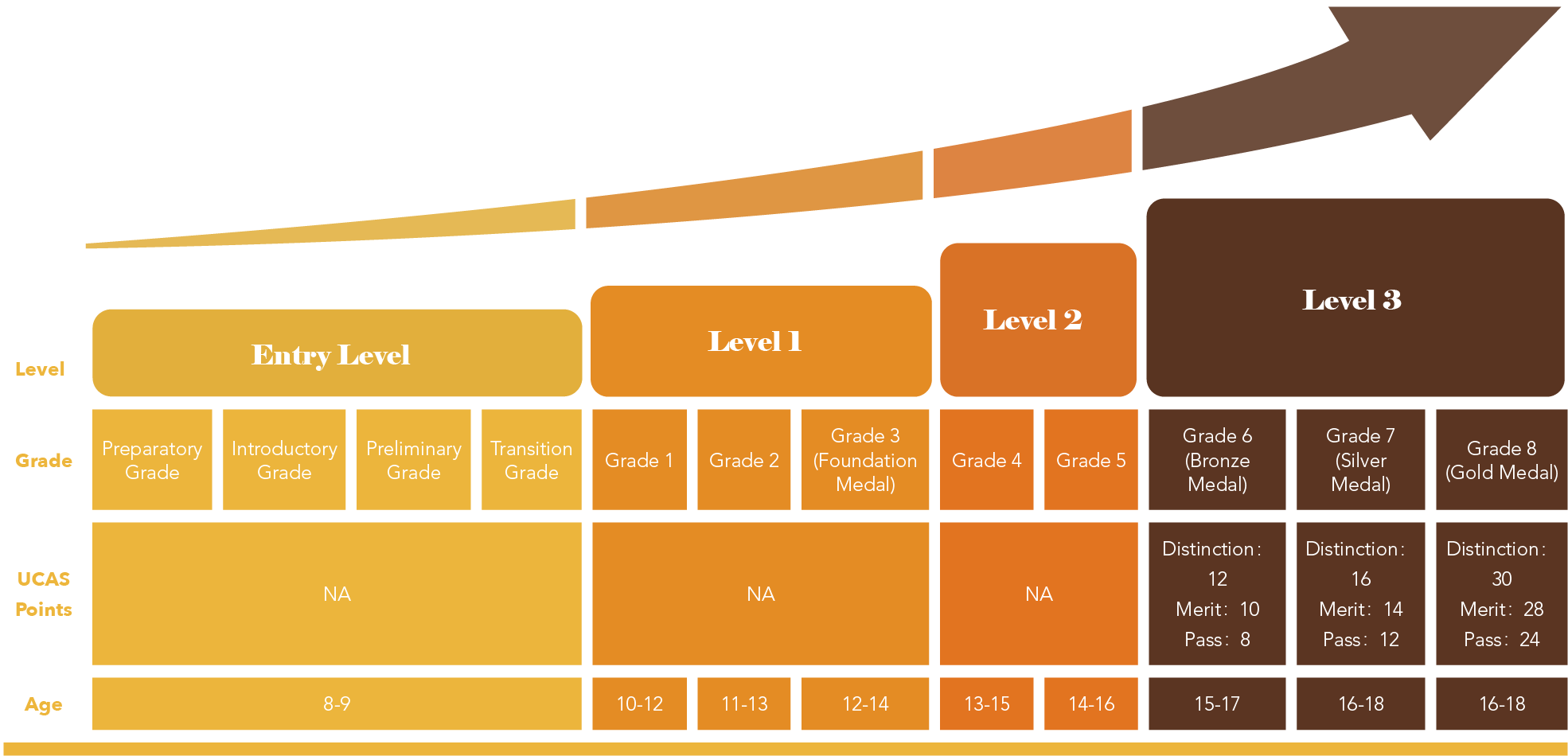 Exam Disciplines Suggestions by Age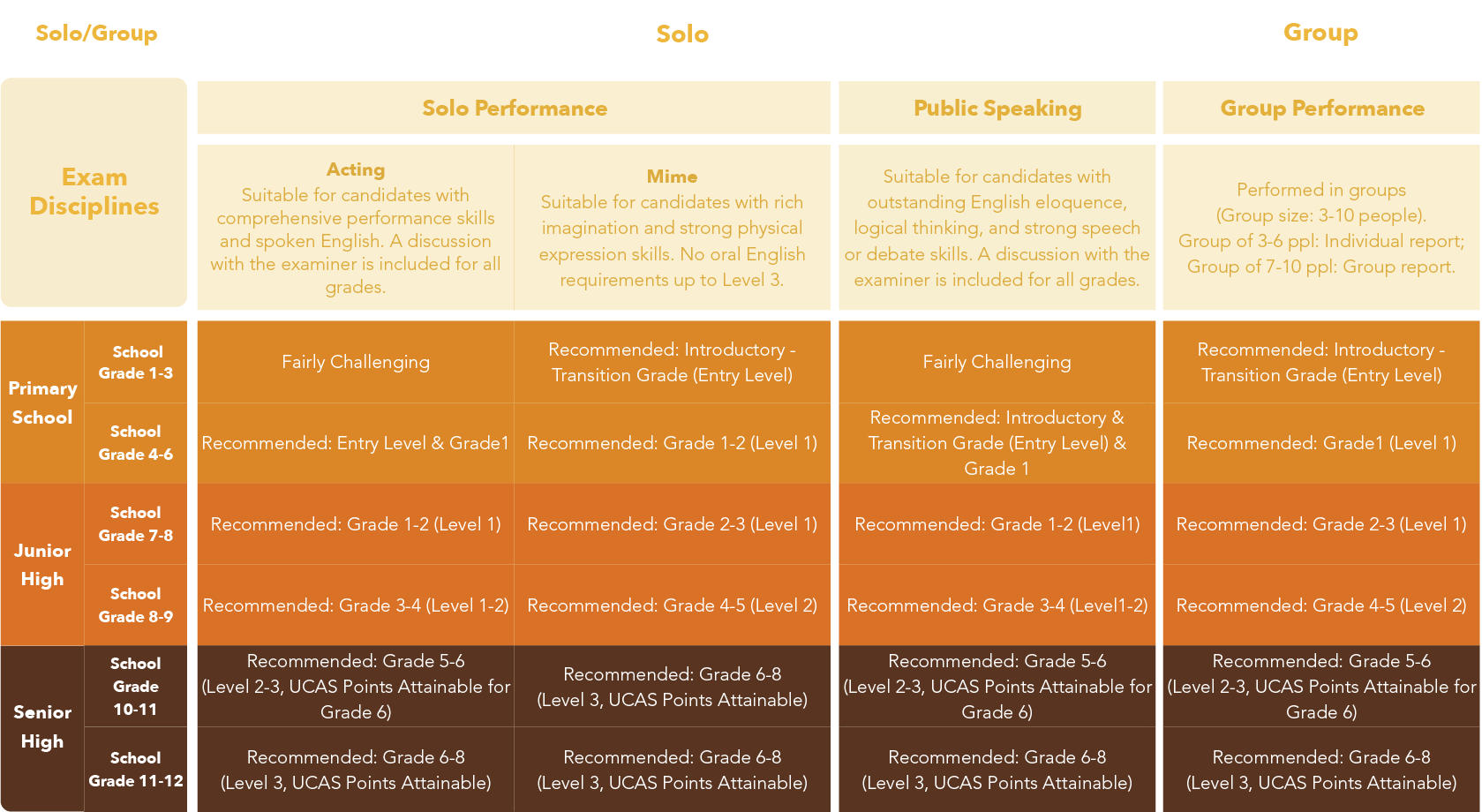 2023 NEA Examination Schedule
Note: Refunds and session transfers are not supported 10 days before the registration deadline.
Date
Time
Deadline
Registration Status
Autumn

Sep. 16th, Sat

From 2:00 pm

Aug. 22nd

Open

Oct. 14th, Sat

From 2:00 pm

Sep. 20th

Open

Nov. 4th, Sat

From 2:00 pm

Oct. 10th

Open

Dec. 2nd, Sat

From 2:00 pm

Nov. 8th

Open

Jan. 6th, Sat

From 2:00 pm

Dec. 12nd

Open

Feb. 3rd, Sat

From 2:00 pm

Jan. 9th

Open

Spring

Mar. 2nd, Sat

From 2:00 pm

Feb. 8th

Open
One of the three authoritative drama certication bodies in the UK, regulated and authorized by Ofqual and QCA, huge global exposure and inuence
Candidates could get up to 60 UCAS tariff points, largely enhancing the competitiveness for future university application
Offering English drama, mime, public speaking, musical theatre, and other disciplines, accepting registration for both solo and group
12 levels from entry to professional level, enabling candidates to improve English expression skills, self-confidence and creativity with structured progression path
Connecting the candidates in China with British drama certication examiners through online face-to-face communication
Lively and entertaining syllabus content helps to stimulate students' academic interest in drama & expressive art
Improve students comprehensive skills of listening, speaking, reading, oral expression, stage performance and prompt social reaction
Certificates & Awards
Candidates who pass the exam will receive a certificate issued by NEA and offcially recognised by Ofqual (The British Office of Qualification and Examinations Regulation).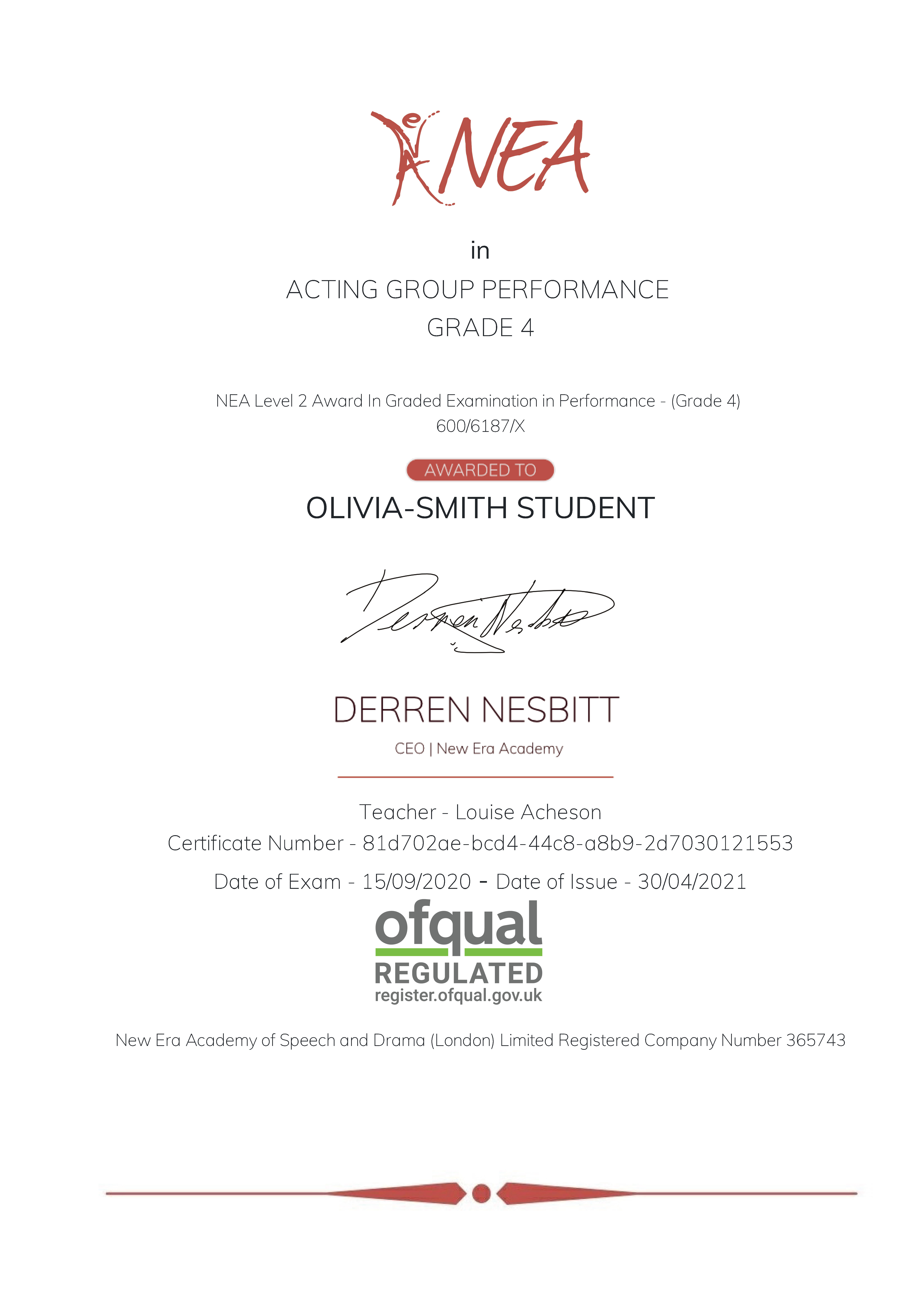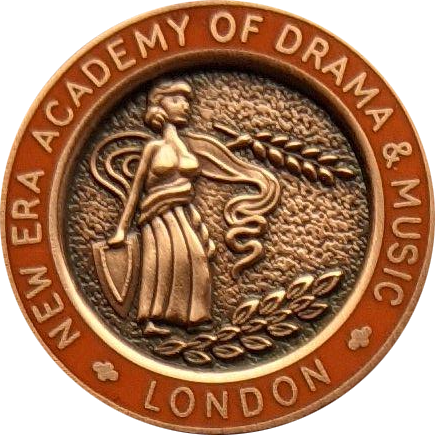 Grade 3: Foundation Medal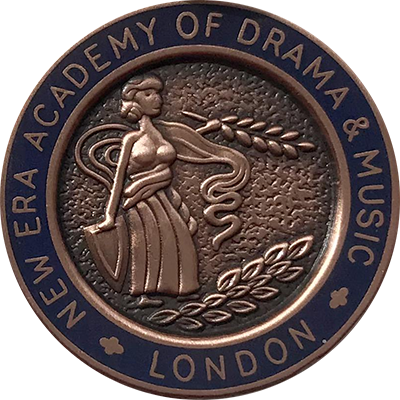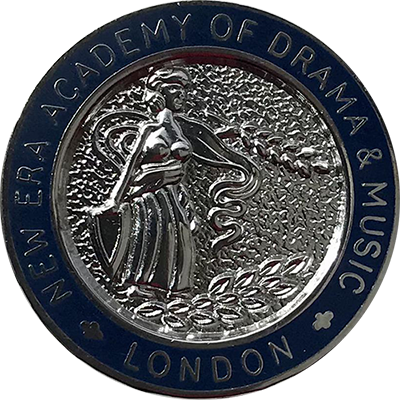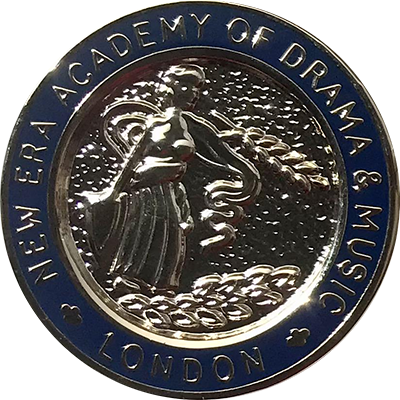 【General Information】
Language:English
Schedule:ASDAN China organizes regular certification exams at least once a month. Candidates can choose to register for various levels and disciplines. Schools can also reserve their own exam session from ASDAN China.
Platform:Zoom (examinee should use a computer, laptop or iPad with functional microphone and camera)
Venue: 2-2.5 square meters for solo exams; proper performing venues for group performances
Dress Code: neat and clean clothes, no cover of the face
Standing Position: Around one meter away from the device to make sure the examiner can see examinee's whole body
【Exam Process】
Log into Zoom meeting waiting room 15 minutes before exam time and wait for your turn to enter the meeting.
The examiner will verify name, certification grade and ID of the candidates.
Examinee will be guided by the examiner to finish each session of the exam.
Examinee should say"thank you" after each session of performance.
Examinee should say "thank you" and bow to give regards before exiting the Zoom session.
Regional Academic Specialists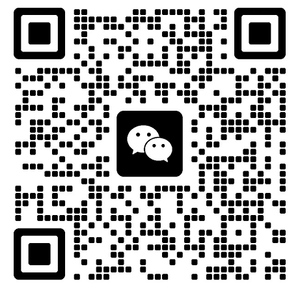 Ms Zhang 13269709296
North China:
Beijing、Tianjin、Shanxi、Shandong、Hebei、Henan、Inner Mongolia、Heilongjiang、Jilin、Liaoning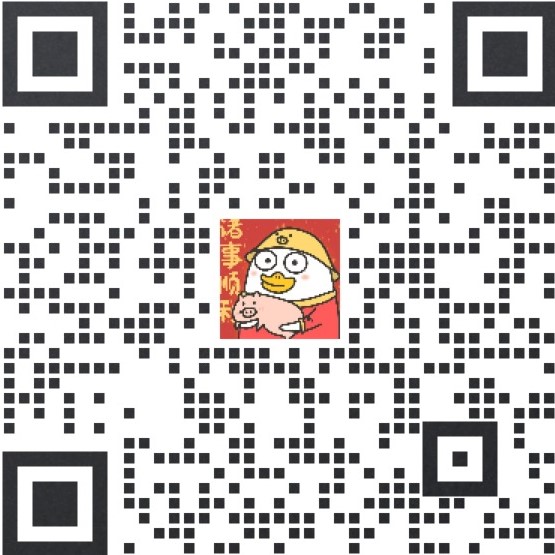 Ms Wang 15618633087
East China:
East China:Zhejiang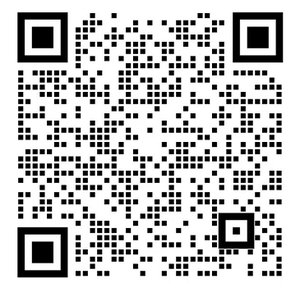 Ms Wu 13166025498
East China:
East China:Shanghai、Jiangsu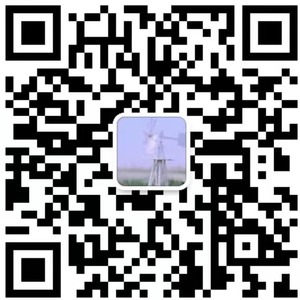 Ms Li 15507502864
South China:
Guangdong、Guangxi、Fujian、Hainan、Hong Kong、Macao、Taiwan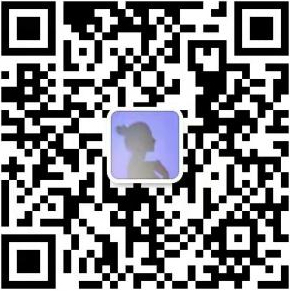 Ms Li 18502808484 
West China:
Chongqing、Sichuan、Guizhou、Yunnan、Shaanxi、Gansu、Qinghai、Tibet、Ningxia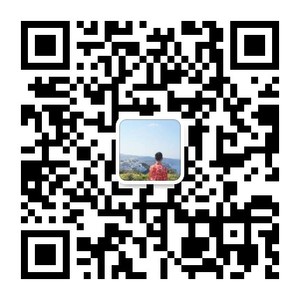 Mr Wang 13086629260
Central China:
Hubei、Hunan、Anhui、Jiangxi、Xinjiang
1.Q: What preparations are needed before the exam?
A: Firstly, understand the exam process, rules and content, get the ASDAN China's exam preparation guide and pre-exam instruction emails, prepare and practice accordingly. ASDAN China will also offer professional drama training courses before each exam, to provide candidates with more systematic and professional pre-examination guidance. On the day of the exam, simply follow the required dress code and schedule to take the exam.
2. Q: Where to take the online exam and what are the requirements for the exam venue?
A: Solo exams require a space of 2-2.5 square meters; group performance needs to be performed in a suitable venue that matches the content of the play (room, open space, stage, etc.). Ensure that there are not too many unnecessary items in the background to not interfere or distract the examiner
3. Q: Can I watch other examinees' performance?
A: No. There are always three (groups) people in the Zoom exam room: NEA examiner, ASDAN examination teacher, and examinee(s) during this period. Candidates to be examed will wait in the Zoom waiting room, and need to exit Zoom immediately after finishing the exam.
4. Q: Can I register for an exam lower or higher than my own age level? Can I jump grades when applying for the next exam?
A: Yes. The suggested ages for each level listed are all for reference only. Parents and teachers can choose the appropriate level to apply according to the students' actual English prociency and performing skills. Candidates can choose to take any higher-level exam after completing one level of exam. There are no restrictions on the age of candidates from the NEA exam committee.
5. Q: Can I register with friends of other levels in the group performance exam?
A: It is allowed for groups of 3-6 ppl (getting individual reports) to sign up for mixed grades certication. Groups of 7-10 ppl (getting group reports) must sign up for one solo grade. Other non-examinees, such as assistant performers, are not allowed in the group performance.
6. Q: Can I use self-created plays instead of classic plays for drama performance examinations?
A: Yes, it is allowed to use decent pieces of self-created plays for group performances. Students can also refer to the recommended plays listed in this booklet.
7. Q: If I sign up for multiple performance exams, can I reuse the clips that I have performed?
A: No. According to NEA official examination regulations, candidates are not allowed to reuse clips that have been performed in previous examinations. A new performance must be prepared for each examination.
8. Q: How long will it take to know my exam results and receive my certificates after the exam?
A: The results will be published with electronic certicates available for download after 3-4 weeks of the exam. ASDAN China will send out hardcopy certicates, reports and medals to the address left by all students around 3 weeks after the publication of the result.
9. Q: For younger candidates, can adults be allowed to assist in setting up electronic devices?
A: For candidates under 12, one parent or teacher is allowed to enter the examination room during the examination period to help with operating electric equipment (computer/mobile), supervising the examination screen to make sure it meets the exam standard, but cannot try to help or distract the examinee in any way. If the above situation occurs, the examiner will stop the exam and consider the exam result invalid.
10. Q: How to ensure the fairness of online exams?
A: The online exam mode requires candidates to use digital devices with a camera to take the exam. ASDAN China will assign a teacher to be in the same Zoom room with the examiner and students to assist the examiner. To ensure the fairness of the examination:
-ID verication: ID/hukou book/passport and other documents need to be shown to prove the identity of the examinee;
-Zoom software will record the whole process of the examinee's examination, and there should be no personnel unrelated appeared in the surroundings;
Special note: The above-mentioned online examination mode has been communicated with the NEA committee with its full agreement.