What is Stepping Stones?
It is a skills development and PSHE/Citizenship programme aimed at learners aged 7 to 12. It sets the children challenges, encourages planning and reviewing and enables them to record their own achievements. Stepping Stones is particularly suitable as an accreditation framework for Transition programmes, Every Child Matters (ECM), SEAL, PSHE 2011, active citizenship, environment education, money matters, residential courses and international links.
Who is it for?
Its flexibility and adaptability allows teachers to use Stepping Stones with children of all abilities in this age group,and in a wide variety of settings – schools, PRUs, activity and youth clubs, residential centres and alternative education.
Optional Course
The Stepping Stones Award programme offers a well-resourced curriculum covering a range of topics within a framework of PSHE and Citizenship themes. It including 12 optional courses and 16 skill-based learning.
Personal
Identity
Personal Wellbeing
Social
Active Citizen
Community Spirit
Around Global
Valuing Each Other
Different Cultures
Trips and Visits
Health
Health
Environment
Economic
Money Matters
Enterprise
Communicating
---
Investigating
---
Perseverance
---
Planning and Reviewing
Observation
---
Independence
---
Confidence
---
Looking After Yourself
Presenting
---
Working With Others
---
Respecting Others
---
Budgeting
Using Multi-media
---
Solving Problems
---
Collecting Evidence
---
Leadership
This Certificate can prove the students take the considerable time and effort, and accumulated a certain amount of knowledge and skills to improve the quality ability in a specific area such as leadership, Environment, Health, Citizenship and so on.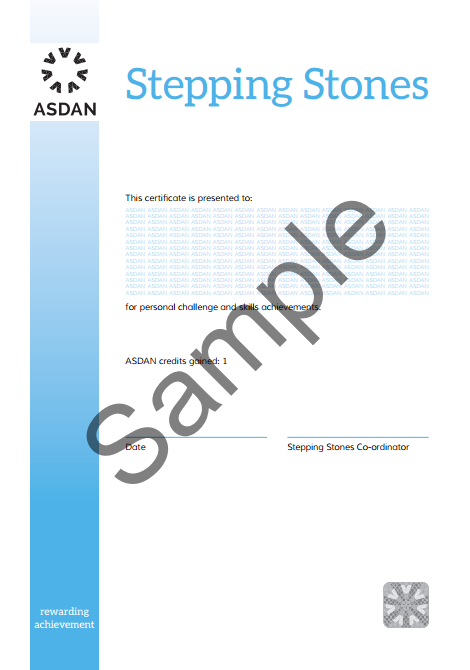 Teacher Tranining
ASDAN CHINA will provide the FREE Training Session in the Teachers' Conference. It aims to cultivate teachers' planning and design ability in the Short Course teaching process. Also, for the Teachers who are outstanding in the whole process of Short Course, they can receive the certificate of "Outstanding Quality Education Tutor" from ASDAN.
Training Hours: 5-6 Hours
Training place: See below
Contact Us
Northern China:Ms. 15116944795
Southern China:Ms. 13424049890
Central West:Ms. 18883255512
Eastern China:Ms. 18521505623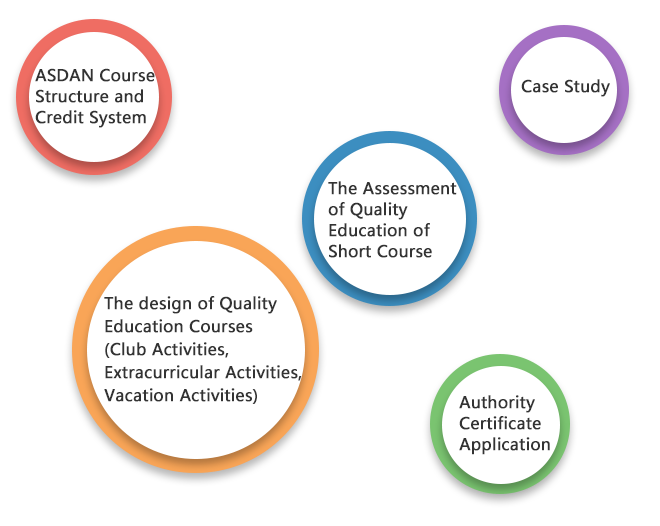 Beijing
March 24th, 2018.
Suzhou
December 14th, 2017
Beijing
October 14th, 2017
Chongqing
March 24th, 2018
Dalian
December 2nd, 2017
Shenzhen
March 24th, 2018
Shanghai
November 18th, 2017
Shanghai
March 31st, 2018
ShenZhen
October 29th, 2017
Guangzhou
April 1st, 2018
Shanghai
October 21st, 2017
1. Who are they for?
The stepping stones is well placed to meet the needs of many different types of learners, providing a including secondary schools, training provision and non-formal contexts.
2. In our school, we already have various activities and students clubs, are they suitable for us ?
Currently the level of extra-curricular activities differs hugely from school to school. Stepping Stones can help schools to set up a systematic extra curriculum and assessment with specific credit System along with improving teachers' abilities to develop extra-curricular activities. Furthermore, it can improve the quality of current activities and provide visible outcomes for learners' parents and principals.
3. For newly opened schools without any systematic extra-curricular activities, what can we benefit from this course?
It offers 12 different topics which can help the new school to form a basis of their extra curriculars by using the Stepping Stones activities as its framework.
4. What are the outcomes for students?
ASDAN Stepping Stones are a good way to demonstrate that subject entitlements have been met in a way that is appropriate to the needs of individual learners: To help learners develop and demonstrate a range of skills through their activities and studies; To help learners develop and demonstrate understanding on a specific area; To recognize and reward learners' personal achievement on a specific area.
5. What are the requirements for students?
ASDAN Stepping Stones are available for aged 13-19+ learners. Each learner is required to participate activities, collect evidence and complete their course portfolio.
6. What are the benefits for teachers?
The responsible teacher can be accredited with an "ASDAN Outstanding Teacher Award"
Evidence to approve their outcome in tutoring activities
Help to enrich schools extra curricular activities
7. What are the requirements for teachers ?
Good English is helpful to run Stepping Stones but it's not required. And it's not necessary for teachers to be an expert on one topic to carry it out. As long as the responsible teacher is dedicated, we believe that the teachers and students will both have a positive experience when exploring the course together.
8. Do we have to "teach" this course in classroom?
ASDAN Stepping Stones are different from our traditional classes. We encourage learner-centred education which means that teachers will act only as a guide to their learners, so that they can learn and carry activities out more independently.
9. Is it possible that each one student takes one course?
We suggest a group of over 15 students for each course due to some specific requirements that involve team work and classmate participation.
10. How long does it take ?
We suggest that each course not last than one semester.
11. Is it possible to take two different courses in one semester for one teacher?
In order to ensure the quality of courses, we suggest that one teacher takes one course at at time. It is possible to run another one when he/she completes the previous one.
12. Are all students available to get certificates?
ASDAN Stepping Stones aim at engaging students' learning progress and reflection of their work. We recognize those who complete their challenges and demonstrate their knowledge and skill on that course. Generally, the passing rate is very high as there is different level of credits awarded and the award is focused on participation.