What are the Personal Development Programmes?
ASDAN The ASDAN Personal Development Programmes offer imaginative ways of developing, recording and certificating a wide range of young people's personal qualities, abilities and achievements, as well as introducing them to new activities and challenges. These programmes link to nationally recognised qualifications.
Who are they for?
These programmes are aimed at learners working at Entry 3 and Level 1. They can be used with learners aged 14-16+ in a range of educational settings.
How long do they take?
These flexible programmes can be delivered within a timescale that suits your context.
Bronze: 6 credits (approx. 60 hours)
Silver: 12 credits (approx. 120 hours)
Gold: 18 credits (approx. 180 hours)
Bronze Credits certificates can also be gained for 1, 2, 3, 4 or 5 credits (10-50 hours).
Who are they for?
The Personal Development Programmes is well placed to meet the needs of many different types of learners, providing a flexible framework and used in all kinds of settings, including secondary schools, training provision and non-formal contexts.
Student book
The Personal Development Programmes student book contains a curriculum of engaging challenges to develop learners' skills and understanding.There are 13 modules:
Communication、The Community、Sport and Leisure、Home Management、The Environment、Number Handling、Health and Survival、World of Work、Science and Technology、The Wider World、Expressive Arts、Beliefs and Values、Combined Studies
Example challenge
Module 5: The EnvironmentSection B: Challenge 3
Visit a recycling centre or energy-saving centre and report back on what you learned. Then either organise a collection of newspapers, bottles, cans or other items, or identify some things your establishment could do to save energy.
Portfolio of evidence
A completed portfolio will contain:a student book
、evidence for each completed challenge、Skills Sheets (the number required will depend on which programme students are working towards)、summary of achievement、personal statement、record of progress
Evidence could include:worksheets、photos、video or sound recordings、drawings or collages、witness statements、notes、maps or tickets、diaries or logs、anything that shows how the challenge was completed
Skills Sheets
Students are required to plan and review some of their challenges using Skills Sheets. These recording documents encourage learners to reflect on their skills development.Students will develop their skills in six areas:
Teamwork、Coping with Problems、Learning、Use of English、Use of Maths、Use of IT
1. The teachers attend into the training session
2. Application and registration
3. Sign a cooperation agreement with the school
4. The teacher set up a curriculum plan for the students
5. The students join into the activities
6. Reviewing the result of quality report
7. Applying for the official certificate
8. Certificating the teachers according to the passing rate of the course
ASDAN CHINA will provide the FREE Training Session in the Teachers' Conference. It aims to cultivate teachers' planning and design ability in the Short Course teaching process. Also, for the Teachers who are outstanding in the whole process of Short Course, they can receive the certificate of "Outstanding Quality Education Tutor" from ASDAN.
Training Hours: 5-6 Hours
Training place: See below
Contact Us
Northern China:Ms. 15116944795
Southern China:Ms. 13424049890
Central West:Ms. 18883255512
Eastern China:Ms. 18521505623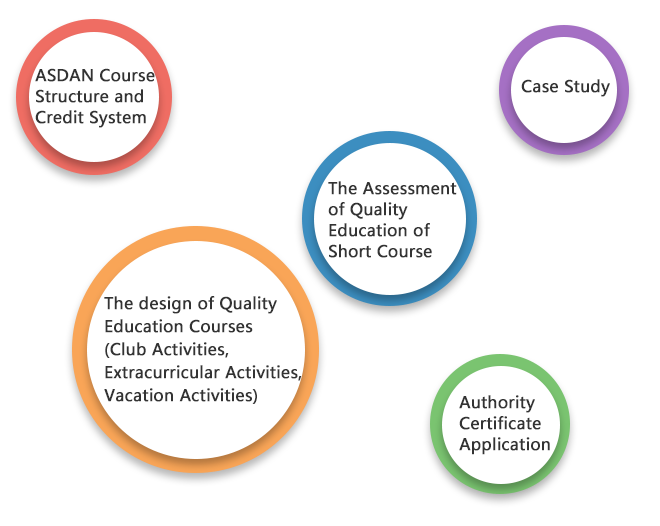 Beijing
March 24th, 2018.
Suzhou
December 14th, 2017
Beijing
October 14th, 2017
Chongqing
March 24th, 2018
Dalian
December 2nd, 2017
Shenzhen
March 24th, 2018
Shanghai
March 31st, 2018
Shanghai
November 18th, 2017
ShenZhen
October 29th, 2017
Guangzhou
April 1st, 2018
Shanghai
October 21st, 2017