Cambridge Summer School
125 Nationalities | 20 Course Selections | 6 Cambridge Colleges | 10 Students per class
Sign up
Cambridge Summer School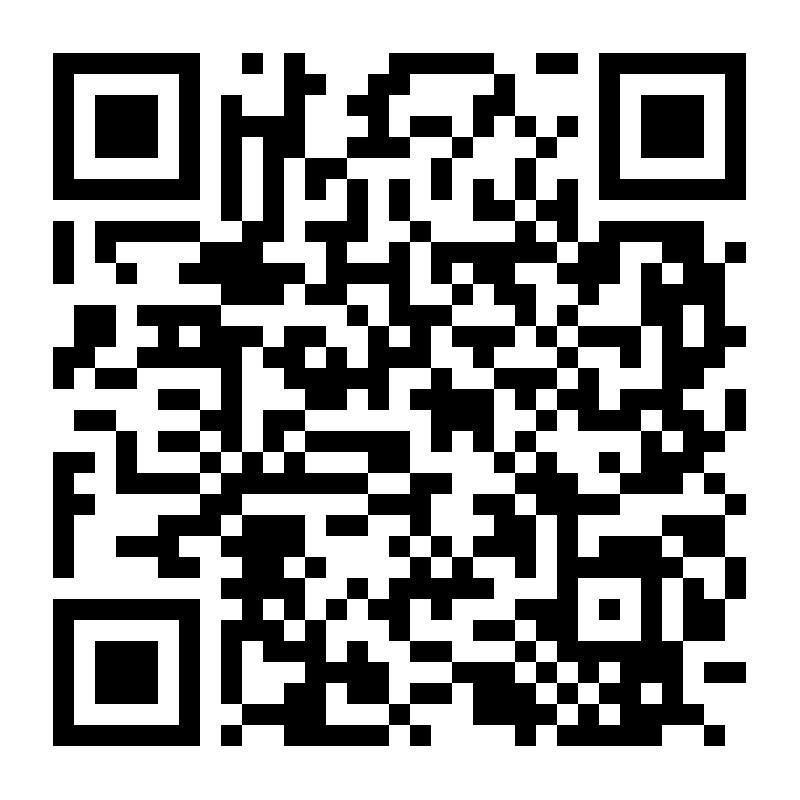 —
Programme Introduction
—
The Cambridge Summer School is an intensive, two-week, residential educational experience with a diverse and enriching curriculum, designed for 13-18 year old students. The carefully planned schedule ensures that the programme meets the academic needs of the participants and provides a unique experience of the university city through an abundance of extracurricular activities. With its diverse and enriching curriculum, the programme allows students to explore and further their knowledge of a chosen subject in an unrivalled academic environment. As an exclusive partner, ASDAN China will select a limited amount of outstanding students to attend the Cambridge Summer School Programme.
It is important to be clear that the Cambridge Summer School is not part of or otherwise affiliated to the University of Cambridge. Any summer programme cannot be converted into Cambridge credits.
—
Why Cambridge Summer School? 
—
—
Awards & Accreditations
—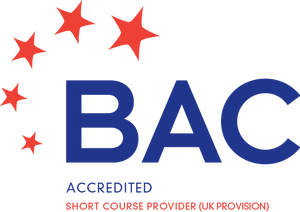 British Accreditation Council accredited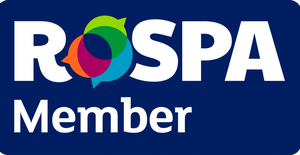 ROSPA Member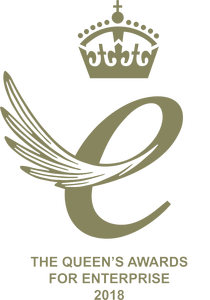 Education Awards - The Queen's Award for Enterprise 2018

Council of British International Schools Supporting Member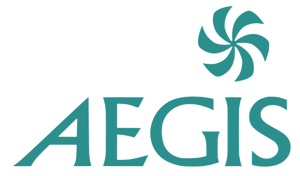 Association for the Education and Guardianship of International Students

British Youth Travel Awards - Finalist 2017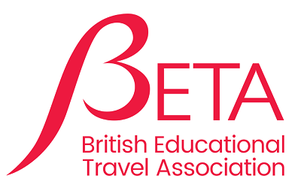 British Educational Travel Association Member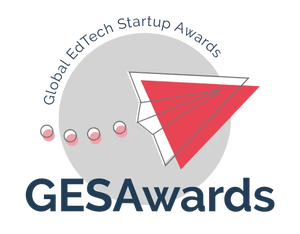 GES Awards Shortlist 2022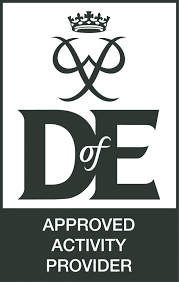 Duke of Edinburgh's Award - Approved Activity Provider
—
Sample Faculty
—
All the subjects taught at Cambridge Summer School are taught by expert tutors. Participants are encouraged to delve into and explore the current debates and issues within their chosen discipline in carefully planned tutorials that emulate the unique Oxbridge system of tutor-student engagement and debate; an approach that goes beyond the superficial and provides unique insights that are both refreshing and intellectually stimulating.
—
Academic Content 
—
*The below is the sample course content, the actual course content is subject to the arrangement of Cambridge Summer School and teaching instructors.
Courses available for 16-18 year olds (9 July - 22 July 2023):
Biology Business ManagementComputer Science Creative Writing EngineeringHistoryInternational RelationsLawPhilosophyPhysics
---
Courses available for 16-18 year olds (23 July - 5 August 2023):
Biology Business ManagementComputer Science Creative Writing EngineeringHistoryInternational RelationsLawMathematicsNanotechnologyPhilosophyPhysics
---
Courses available for 13-15 year olds (23 July - 5 August 2023):
ArchitectureBusiness ManagementComputer ScienceCreative WritingEarth SciencesEngineeringInternational RelationsLawMedicinePhysicsPsychology
---
Courses available for 16-18 year olds (30 July - 12 August 2023):
ArchitectureChemistryEconomicsCodingEnglish LiteraturePsychologyEarth SciencesMedicine
---
Courses available for 16-18 year olds (6 August - 19 August 2023):
Biology Business ManagementComputer Science Creative Writing EngineeringHistoryInternational RelationsLawMathematicsPhilosophyPhysics
---
Courses available for 13-15 year olds (6 August - 19 August 2023):
ArchitectureBusiness ManagementComputer ScienceCreative WritingEarth SciencesEngineeringInternational RelationsLawMedicinePhysicsPsychology
---
Module 1 - Macromolecules Of Life
You will examine key biological macromolecules and explore their role in living systems. You will also learn about biological membranes and consider the idea of the membrane as a dynamic structure, through the concepts of membrane transport, cell signalling, and cell-cell recognition. In addition, you'll be introduced to the importance of Proteins, Carbohydrates, and Nucleic acids and discuss how these polymeric structures are constructed from simpler components.
Module 2 - Cell Theory And Cell Structure
The session will begin by consideration of some early pioneers of microscopy (Hooke and Leeuwenhoek) and the subsequent development of the Cell Theory. You will be reminded of the two fundamental cell types (prokaryotic and eukaryotic) and then review some of their key differences. You will also examine the role and functions of various cell organelles in a eukaryotic cell.
Module 3 - Principles Of Bioinformatics
Explore the importance of bioinformatics in life sciences. Bioinformatics is an interdisciplinary science developed using concepts from biology, mathematics, computer science and statistics. You will explore how advances in the field of bioinformatics enabled the mapping of the entire human genome and genomes of many other organisms which led to the discovery of novel drug targets and revolutionised the field of molecular medicine.
Module 4 - How Will Advances In Biological Research Impact Upon Society?
Learn how to improve your scientific writing skills through a presentation or scientific essay, exploring how Biological research impacts upon society.
Module 1 - Introduction To Management
You will explore the components, processes, and objectives of management practice. Examine how policies, practices, and systems influence employee behaviour, attitudes, and performance, and explore the subsequent managerial tools that can be deployed. You will also be introduced to case studies as a method for testing management theory in practice.
Module 2 - Negotiation
This session will focus on fine-tuning a specific set of relational skills: empathy and collective problem solving, the ability to spot opportunities for value creation (broadly defined), and the management of differences, to be seen as fair and objective and equipped to handle courageous conversations.
Module 3 - Brand Management
Branding has become one of the very few strategies that can help to build a sustainable advantage over competitors. This brand management module highlights the strategic implications of branding while providing a comprehensive overview of brand management from both firms' and consumers' perspectives. This course identifies the core topics involved in brand management and enables participants to understand how firms build, measure, leverage, and manage brand equity.
Module 4 - Develop Your Own Case Study
Throughout the programme, you will have the opportunity to research your own case study - choosing a particular industry, company or business leader that interests you. During a one day mini-conference, you'll share your findings with your class, and also learn from your fellow classmates.
Module 1 - Programming With Python
Python is a very popular object-orientation programming language that continues to be extensively used in academia and industry. You will discover Python, tackle programming tasks, and be shown how to think programmatically, by breaking down problems so that you can tackle them with Python.
Module 2 - Object Orientated Programming With Python
OOP expresses components as objects, packaging what you need to know about a component in a self-contained unit of code, which has its own functionality and state. You will build layers of these objects to create more powerful representations, whilst simultaneously simplifying and promoting the reuse of code.
Module 3 - Databases And Big Data
It is estimated that we produce 2.5 quintillion bytes of data per day, or two and a half thousand million gigabytes. How do we make sense of it? How can we leverage it to our advantage, and how can we manage it? In this topic you will learn relational databases, a powerful tool that is used almost everywhere in computer science to efficiently store data.
Module 4 - Personal Project Presentation
After presenting your work and findings throughout the computer science programme, you are given the chance to be critically evaluated by your peers and tutor. This helps to solidify the theoretical and practical knowledge learnt throughout the two-week summer school.
Module 1 - An Introduction To Creative Writing
In this introductory module, you will challenge conventional assumptions of writing in the 21st Century. You'll have the opportunity to discuss preferred writing methods and routines, what you hope to achieve on the programme and learn how to combat the dreaded blank page.
Module 2 - The Importance Of Character
From Sherlock Holmes to Jay Gatsby, it is often believed that great characters drive great fiction. In this module, you will assess the clichés and tropes of a range of comedic and conflicted characters, as well as analysing how they can shift the tone and plot of a piece of work.
Module 3 - Learning The Industry: The Basics
The very best of authors with a finished manuscript can still experience setbacks from not knowing how the publishing industry works. In this module, you will learn about the various publishing options, from competitions, magazines and traditional publishing, to e-books, self-publication and film writing.
Module 4 - Creative Portfolio
As part of your programme, you will be given the opportunity to produce several pieces of creative work in your chosen subject which will form the basis of a portfolio. Portfolios are a great way to showcase your skill and accomplishments and are essential in university applications to creative subjects, demonstrating your ability in a way grades cannot. As part of this process, you will receive two 1:1 sessions with your expert tutor, who will give you advice and feedback on the development of your portfolio.
Module 1 - Electrical Engineering
You will apply the principles of electromagnetism to understand a range of electrical components such as digital circuits and sensors. You will then enrich your understanding by exploring digital circuits at the base of modern laptops and smartphones, addressing their limitations. The theory is then put into practice as you construct your own radio receiver.
Module 2 - Mechanical Engineering
Following a review of the key principles of kinematics and the Newtonian laws of motion, you will explore rigid body dynamics for 2D and 3D objects before exploring the engineering design of earthquake-resistant buildings and pitching your own ideas based on an in-class scenario.
Module 3 - Material Engineering
At the forefront of nanoscience and nanotechnology research, you will explore this fascinating and diverse field to evaluate existing materials and consider new substances at the forefront of current research. Participants will also explore how new materials are developed and tested.
Module 4 - Engineering A Solution
Participants will be presented with a known problem and asked to work in pairs to create a solution based on the engineering principles that they have encountered. They will then present their idea and demonstrate a working prototype to their peers before facing questions.
Module 1 - Science And Discovery
You will explore science in the context of the 15th century and seek to understand how and why scientific exploration took on new significance within the time period. Through this exploration, you'll evaluate existing historiography and debate a narrative that the developments of the 15th century constitute a scientific revolution.
Module 2 - Gender And Witch-Hunting
Discuss the rise of gender history and its own historical context before exploring gender through the lens of witch-hunting. You will be encouraged to critically analyse existing research and evaluate primary source material in order to develop your own nuanced understanding of how gendered roles were expressed, defined, or blurred, and how these roles might change under different circumstances.
Module 3 - Court Festivals
Court pomp, ceremony and celebration was prevalent across Western Europe in the 15th Century. You will explore the performative nature of the ceremony and symbolism of these processes, seeking to understand how states and individual actors legitimised their power and authority to rule in the Early Modern period.
Module 4 - Essay Presentation
You will apply the historical theory and context that has been explored throughout the programme to create an essay on a topic of your choice. This will incorporate the elements of best historical practice discussed early in the programme and enable you to develop research skills as you analyse both primary and secondary source material.
Module 1 - Introduction To Econometrics
You are taught how multiple regressions allows researchers to control variables that would otherwise confound one's results, and the most commonly used tools to test hypotheses and estimate causal effects. The session also gives you a chance to learn from methods such as natural experiments, regression discontinuities, and instrumental variables.
Module 2 - Development Economics
You will learn why some countries are vastly richer than others in the context of economic development. Explore answers to this question by focusing on the role of poverty traps, education and nutrition. You'll understand how economic interventions can help to alleviate poverty, with an emphasis on microfinance and cash transfers.
Module 3 - Auction Theory
Auctions can be viewed as a game in which players choose how much to bid without knowing the bids of their opponents. As a result, you'll be asked to extensively analyse auctions using game theory. In this tutorial, you will use these tools to study a variety of auction formats: first and second-price auctions and all-pay auctions. Derive the game-theoretic predictions of how people should bid and test this by conduction auctions in the classroom.
Module 4 - Project Presentation
You'll finish with an exciting one day mini-conference! By working independently over the two-week period, you will spend the last day discussing your relevant findings on your assigned Capstone Project, as well as presenting this to your peers and tutor. The course finishes with a workshop and review session to discuss applying for economics and business and management degrees and subsequent career options.
Module 1 - The Middle East In International Relations
Home to the world's three great religions and harbouring massive quantities of oil and gas, the Middle East seems to invite geopolitical attention almost by default. Nowhere else are the failings of economic and political development so closely intertwined in producing international conflict. In this module, you will explore the key international actors in this region.
Module 2 - The Role Of Ideas In International Relations
As new global priorities have emerged in recent decades, nation states and other global actors have increasingly demonstrated their 'social' side in such fields as climate change, international human rights, and international aid. This class explores the role of ideas in IR, an approach that is typically captured by the term "Constructivism".
Module 3 - The Project of a European Union
Today, the EU has a total population of more than 500 million people. What are the strengths and weaknesses of the European Union in today's increasingly globalised world? This module focuses on understanding the internal structure of the EU and assesses its capabilities as a political actor in internal and external affairs..
Module 4 - United Nations Simulation
You will be assigned a country to represent at a high-level diplomatic meeting of the UN Security Council and to write a position paper about your country's foreign policy regarding a topical political scenario. You must then present and defend your country's position on the matter, working to form alliances in accordance with its goals.
Module 1 - The Separation of Powers
You will explore one of the most important pillars of liberal-democratic politics and a cornerstone of British constitutionalism: the separation of powers. The discussion will centre on the purpose and value of the separation of powers and its complexity, given that all branches of the state arguably make and interpret the law.
Module 2 - Equality Before the Law
You'll explore the role of equality within the UK constitutional framework and in particular, considerin whether this principle is a procedural or substantive norm, applying only to rule application or itself constitutive of legal rules. Discussion then focuses on how exactly the state should respect this principle within a modern context.
Module 3 - Evil Laws and Evil Legal Systems
In this module you will examine the conflict between natural law theory and legal positivism in greater depth. You will consider the practical implications for adopting particular conceptions of law when courts are required to deal with evil laws and evil legal systems. The Nuremburg trials help to locate and ground these implications.
Module 4 - Criminal Law in Practice
You will prepare for your assigned role as you explore a criminal law case in practice. Whether a witness, the accused, the victim the prosecution lawyer, defence lawyer or judge, all participants have a crucial role to play in the justice system and this provides you with an opportunity to see the law in action, as well as develop oratory skills.
Module 1 - Matrix Calculus
Dive into the ubiquitous nature of matrices as they are represented in equations, geometric transformations, complex numbers, and even particles used in physics! An advantageous skill when undertaking any scientific discipline, you will start from linear systems, develop the formalism of matrices and transform them using the Gauss-Jordan method.
Module 2 - Real Analysis
Explore the concept and definitions of numbers like Integers, Rationals and Reals. You will engage with key definitions such as sequences, series, limits of functions, and infinite series. By tying in real-world applications, such as how infinite series allow computers to calculate any kind of function, you'll learn to not only 'write mathematics', but also start to understand how maths affects today's world.
Module 3 - Vector Spaces
Vector spaces are the way to see the underlying geometry that spontaneously arises from algebra! You'll learn to deal with higher-dimensional spaces, where your eyes cannot see, but your mind can, through algebra. This generality is needed for instance in physics, where the theory of relativity requires a four-dimensional vector space.
Module 4 - Project Presentation
This will be the most diverse and exciting day of the programme. A session devoted to enabling both you and your peers to share your own mathematical interests, develop useful presentation skills including 'writing' mathematics, and receive insightful feedback.
Module 1 - Nanoscience & Nanotechnology
In this introductory module, you will gain a comprehensive understanding of the fabrication processes that are used in nanoscience research as well as in the industry of nanotechnology to construct complex micro and nanoelectronic structures. Students will be able to use this understanding of the chemistry, physics and engineering of planar processes to predict the performance of fabricated structures.
Module 2 - Research in Nanoscience
In this module, you will continue to broaden your understanding of research in the field, taking a deep dive into the interdisciplinary aspects of modern nanoscience and nanotechnology. During this module, you will work in groups to form a presentation showcasing your knowledge built from a group of nanoscience researchers studied, presenting current and thematic research examples in the area of nanoscience.
Module 3 - Nanofabrication
Throughout this aspect of the course, you will be introduced to the principles and practice of nanofabrication. Topics will likely cover lithography, pattern transfer, inspection and electrical testing. You will also gain the opportunity to complete a short fabrication project during this part of the course.
Module 4 - Research Methods & Techniques
Solidifying your knowledge base and skill set in the realm of nanoscience research, you will explore the fundamental principles of the scientific method. You will deepen your understanding and skillset in core scientific research skills including planning, designing, executing, evaluating and presenting research effectively.
Module 5 - Microwave & Millimetre Circuit Design
The Microwave and Millimetre Circuit Design module is designed to provide you with the fundamental knowledge of microwave and millimetre-wave components and to develop the skills necessary for circuit design. This foundation is extended to integrate such components into more complex systems such as TX/TR in modern communications and imaging systems taking into consideration applied techniques and technology involved.
Module 6 - Microscopy & Optics
You will build a fundamental understanding of a variety of microscopic and spectroscopic methodologies used to study biological systems. After completing this module, you will understand the operating principles behind these methods and be able to identify the most suitable methodology for studying a given sample. This understanding will be achieved through a combination of academic sessions and practical laboratory workshops.
Module 7 - Nano & Atomic Scale Imaging
Explore the underlying physical principles required to comprehend widely applied techniques for the characterisation of materials that depend critically upon structural features at the nanometre and atomic length scales. The techniques covered in this module include Scanning Electron Microscopy (SEM), Scanning Probe Microscopy (SPM) and Transmission Electron Microscopy (TEM). The physics governing these techniques are taught along with an emphasis on practical knowledge.
Module 8 - Quantum Electronic Devices
This module takes a close look at Quantum Electronic Devices and considers the design and operation of advanced semiconducting and superconducting devices, to the fundamentals of quantum technologies and their applications for sensing and computing. By the end of this unit, you will have an understanding of what quantum electronic devices are and their place in the study of nanoscience.
Module 1 - Origins: The Presocratics
In this module, you'll examine the so-called Presocratics, Greek philosophers at the foundation of Western philosophical thought. Instead of relating to god-like entities in Ancient Greece, they looked to the four elements - water, air, fire, and the earth - to explain the nature of existence.
Module 2 - Beyond Truth And Morality: Nietzsche
For Friedrich Nietzsche humanity is anything but innocent. In this module you will examine Nietzsche's notion that what fundamentally drives us is our 'Will to Power', our desire to dominate, even to enslave our fellow men. You will also examine how Nietzsche's views were distorted by 20th century Nazi propaganda.
Module 3 - The Unconscious: Freud
Sigmund Freud claimed that our actions and thoughts are motivated by unconscious plans and desires. In this module, you will explore his belief that one could access the unconscious mind through dream analysis and verbal slips, as well as his tripartite structure of the mind - the id, ego and superego.
Module 4 - Personal Project
This is one of the most exciting parts of the course. In this module, you will get the opportunity to give a presentation on an area of interest in the philosophy programme, engage in discussions with your peers, and receive important feedback from your tutor, an expert in the field of philosophy.
Atomic Structure and Periodicity
In the first part of the course, participants take a closer look at the atom, discussing some of the earlier models of atomic structure. These seminal works, and others, led to the discovery of subatomic particles (protons, neutrons and electrons), and their corresponding properties. The class defines key terms relating to the atom, which form the foundation of the chemistry course. The tutor also introduces the mole concept and participants use it to perform important chemical calculations. Finally, participants analyse the modern periodic table (a concise arrangement of chemical elements based on their atomic structure) and discuss the trends that arise from this ordering.
Quantum Mechanics
The classical description of the atom (the Bohr Model) provided key recipes for computing the energy levels of hydrogen-like atoms. Around the early 20th century there were several key discoveries that could not be explained within the classical description of the atom (particularly, the Bohr Model). These observations and contradictions of the established theories eventually led to the introduction of quantum mechanics, paving the way for our modern understanding of the atom structure and constituents. In this session, the four quantum numbers are introduced, and participants collaborate to provide key comparisons between the quantum mechanical and classical models of the atom.
Organic Chemistry and Bonding
Participants explore covalent bonding in more detail and define key terms, such as electronegativity. The resonance structures of covalent bonds in molecules and polar covalent bonds are discussed. Other bonding, namely ionic and metallic bonding are also explored, and participants predict the bonding between elements based on their structures, valence electrons and position in the periodic table. This topic utilises key concepts covered in earlier topics and also describes giant covalent compounds and their properties. In the second half of the session, participants are introduced to organic chemistry. Discussion centres around the structures, properties and chemical reactions of alkanes and alkenes. Nucleophilic substitution and electrophilic addition reactions are thoroughly outlined.
Thermodynamics
Lord Kelvin said, 'Thermodynamics is the subject of the relation of heat to forces acting between contiguous parts of bodies, and the relation of heat to electrical agency'. In 1840, the field of thermodynamics was expanded to encompass the study of energy transfers in chemical reactions by the German scientist, Hess. In this module, the 1st and 2nd laws of thermodynamics, and the concepts of enthalpies and entropies of chemical reactions are introduced. Hess's law of chemical thermodynamics is discussed as well as the use of the heat of formation for forming compounds. Participants also discuss more abstract, but engaging, ideas, such as spontaneous and nonspontaneous reactions.
Kinetics
A kinetics experiment measures the rate at which the concentration of a substance taking part in a chemical reaction changes with time. The rate law is the relationship between the rate and the concentration, which are related by a proportionality constant, 'k', called the rate constant. We use the above to introduce more advanced topics, such as chemical equilibrium, Le Chatelier's principle, integrated rate laws, reaction mechanisms and Arrhenius equation. We work through the derivations in a step-by-step manner and consolidate concepts by referring to practical examples, such as the Haber process, and simple chemical reactions performed in the laboratory.
Acids and Bases
Svante Arrhenius defined acids as substances that dissociate in water to produce hydrogen ions and bases as substances that release hydroxide ions in water. Brønsted and Lowry independently defined acids as proton donors and bases as proton acceptors. On the other hand, G. N. Lewis defined acids as electron pair acceptors and bases as electron pair donors. All these definitions are useful and help us understand the reactions of acids and bases (i.e., neutralisation reactions). Here, participants work through other concepts such as strong vs weak acids/bases and pH. Acid/base dissociation constants, which are special types of equilibrium constants are also discussed as well as buffers.
Compounds, Hybridisation and VSEPR Theory
Twenty years prior to the development of quantum mechanics, G. N. Lewis introduced an organising principle in bonding known as the Lewis structures, which helps predict the covalent bonding pattern of atoms. It is also a means of visualising the atoms in a bond, and allows us to conceptualise bonding between different molecules. Molecular orbital theory (based on quantum mechanics) and hybridisation (combining of atomic orbitals) are other indicators of how molecules are structured, and provide a more detailed look into the mechanisms they may use to form compounds. Participants will also employ the Valence Shell Electron Pair Repulsion (VSEPR) theory to determine the angular inclinations of molecular structures.
Experimental and Computational Techniques
We introduce some of the common experimental and computational approaches employed to probe chemical properties of molecules and reactions. Firstly, we explore methods such as mass spectroscopy, infrared spectroscopy and nuclear magnetic resonance (NMR) spectroscopy. We also discuss various separation techniques, as well as diffraction techniques – which are largely used for structure determination. Secondly, we introduce the concept of a potential energy surface and describe how geometry optimisation techniques can be used to explore that surface. We also familiarise ourselves with the various levels of accuracy in computational chemistry, and so contrast ab initio and molecular mechanics calculations.
Sustainable Chemistry
A biofuel is a fuel that contains energy from geologically recent carbon fixation and are produced from living organisms, for example, in plants and microalgae. These fuels are made by a biomass conversion (biomass refers to recently living organisms, most often referring to plants or plant-derived materials). This biomass can be converted to convenient energy containing substances in three different ways: thermal conversion, chemical conversion, and biochemical conversion. Researchers are very interested in developing new catalysts for removing harmful greenhouse gasses from the atmosphere. Nature has already figured out how to accomplish this. Certain microbes 'live on' CO or CO2, utilizing enzymes with metal cofactors that facilitate carbon fixation reactions.
Nanoscience and Nanotechnology
In 1959, Richard Feynman gave a lecture at CalTech called, 'There's Plenty of Room at the Bottom'. In it, he was the first to talk about the possibility of directly manipulating atoms on the atomic scale. Sixty years later, we have made incredible advances in nanotechnology; silver nanoparticles are used in Nike socks as an antibacterial so that you no longer need to wash your socks (this is, however, not advisable!), bulletproof vests contain carbon nanofibers making them stronger and more lightweight. This topic will encompass the four big questions on everyone's mind: What is Nanotechnology? How does it work? Why do we need it? What are the next steps?
What is Literary Criticism?
It is undeniable that literature is valued by popular culture and by educationalists. It has been championed as a form of criticism of the status quo; as a mode of escape; as a tool capable of training empathy in readers; as a superior aesthetic object designed to entertain or elevate, rather than instruct. This session considers what the purpose of literature is, and hence, the role of literary criticism. It does so by examining how individuals have interpreted the function of literature from the days of Aristotle through to the present day, in order to see what critical approaches to literature suggest about the purpose of literature and literary criticism.
What is Close Reading?
This unit provides a crash-course in a dominant method of literary criticism known as 'practical criticism.' It will introduce students to the history of this practice. Students are invited to evaluate the benefits and critiques of this method. The module aims to improve students' personal abilities with close reading but at the same time invites students to consider the limitations and difficulties of the reading techniques on which this method depend. This is a skill that is required across multiple disciplines and in a variety of professional contexts – we will consider how close reading can be applied to different contexts and its relative value as such.
Writing Literary History
This topic invites students to think more carefully about the literary canon, and some of the historical and value-laden terms that have been used to categorise texts as 'classics' or 'popular fiction.' Divisions like these tend to structure literature courses in schools and universities. Students are encouraged to question the formation of these categories, and to consider how contemporary debates over the canon may be reshaping our ideas of what 'literariness' involves. Participants will be encouraged to offer their own ideas for works that should be included in certain canons.
Editing: What Difference Does It Make?
Editing is a crucial part of bringing texts and manuscripts to print, but its workings are often invisible or unappreciated. This unit invites students to evaluate the role that editing has upon the communication of ideas in texts. By considering the editorial history of Shakespeare's King Lear, this unit encourages students to evaluate how the history of editorial practice informs us of how literature has been valued, studied, and published in different time periods. In this module students will complete an editing exercise and will need to consider solutions to standard questions asked of modern editors: whether or not to modernise spelling, how to deploy footnotes, and so on.
Poetry and The Bible
This unit invites students to analyse the complexities with which two key poets, John Milton and T. S. Eliot, have used poetry to engage with biblical stories and themes. Students will be encouraged to consider how Milton and Eliot's specific historical contexts influence their biblical invocations. By situating Paradise Lost in relation to the Interregnum, and 'The Waste Land' in a post-World War One context, respectively, students will be asked to evaluate how Milton and Eliot's poetic invocations of biblical stories and themes enabled provocative debates regarding contentious philosophical questions regarding heroism, government, and hope.
Colonialism and Post-colonial Literature
This topic introduces students to the concept of post-colonial literature as a category of texts and as a form of writing. It will raise questions of identity, literature as a mode of resistance, and notions of hybridity. As part of this unit, students will be asked to analyse a selection of texts from a specific post-colonial context – that of postcolonial Australia. They will be asked to consider how the politics of empire has shaped our current view of literature and literary studies, and to explore ways in which post-colonial texts and ideologies can generate new interpretations of the gaps and silences in 'canonical' British texts.
Translation and Transformation
This unit focuses on the question of literary adaptations as a mode of translation. By performing a case study of different adaptations of Jane Austen's Pride and Prejudice, it will bring to the fore the role of textual media in shaping our attitudes and interpretations of events. By watching a range of adaptations, this unit invites students to critically consider what is lost and what is gained when a text is 'translated' for a different set of viewers in the form of an adaptation. Participants will also consider the process of translation and the factors that are brought into consideration or perhaps overlooked.
Poetics of Punctuation
This unit will examine the role of punctuation in aiding literary comprehension and providing different modes of interpretation. Drawing on our understanding of the importance of editing, this study will look at how different editions of Emily Dickinson's poetry affects the interpretation of the poems. It will consider how the use, and non-use, of punctuation can be used to create drama in both prose and poetic works. Participants will be encouraged to posit their own suggestions for works that can or have been given alternative significance due to the inclusion or omission of punctuation.
Functions of Form
In this topic, we will consider how the structural and physical forms of a text influence the text's meanings. This topic will be based around a case study of three different textual forms: a sonnet; an excerpt from a young children's book from the 1780s; and selections from William Blake's Songs of Innocence and Songs of Experience. Through a discussion of the ideas of literary structures, and physical formats of books and prints, we will assess the extent to which the visual and material presentation of a text influences the text's communication of ideas. We will also visit the Fitzwilliam Museum to examine a selection of Blake's prints in person.
Prosody and Metre
Tum-dee-dum. In literary study, prosody has to do with the patterns of linguistic features: stress, syllables, quantity, phrasing, etc. You might call it the grammar of rhythm; and in poetry, metre is the basic rhythmic structure of a poem's lines of verse. In this module we will explore four basic kinds of metre (accentualalliterative, syllabic (Romantic), accentual-syllabic, quantitative), and we will learn about some curious Renaissance experiments with English poetry and Latin quantity. But we will also go into a variety of examples. Participants will learn not only how to scan a poem, but also how to feed that understanding of analysed rhythm back into their interpretation of that poem.
Module 1 - Classical Mechanics
The study of classical mechanics is the study of how objects move and is a topic tightly bound to the University of Cambridge via its founding father, Sir Isaac Newton. The skills required for mechanics are found in many areas of physics, and you will extend your knowledge of high school mechanics to include more complex problems relating to kinematics.
Module 2 - Wave Phenomena
Propagation of energy or matter is often described either by the kinematic travel of an object or by the evolution of a wave. Whilst the most popular example of a wave, the water wave, might not seem too thrilling to study, the number of physical processes that include waves are innumerou.
Module 3 - Electronic Engineering
Electronic engineering is a wide branch of engineering which applies the general principles of electromagnetism to digital circuits, sensors, actuators, mobile telecommunications, optic fibres etc. Participants will be introduced to basic electronic components and systems, and we will collaborate to briefly describe their working principle in scientific terms.
Module 4 - Optics
The study of light as a wave initially turned out to be immensely powerful. It lays the foundation for the production of a wide range of things, ranging from reading glasses to far- space telescopes. In this topic, we remind ourselves of how light travels through mirrors, lenses, and pieces of apparatus built with optical elements.
Module 5 - Electricity and Magnetism
Whilst the study of the movements of objects (from planets to apples) occupied physicists for centuries, the Industrial Revolution and the discovery of electricity led to an era of making the impossible possible.
Module 6 - Thermodynamics and States of Matter
The matter in our universe can consist in different states. Some common examples include the gaseous state, the liquid state, and the solid state.
Module 7 - Atoms, Nuclei and Elementary Particles
The ancient Greeks realised that many things in our universe seems to be governed by some underlying symmetry. Schools of fish tend to adapt symmetrical formations. Many flowers contain rotation symmetries etc. Over the last century researchers have been occupied with exploring what matter is ultimately made from.
Module 8 - Quantum Mechanics
Whilst physicists were happy to work with Newton's laws of motion when describing the movement of macroscopic objects, it eventually became clear that his formalism could not properly describe the movement of small objects. For example, electrons, which had been considered to move as particles, sometimes behaved as waves. To confuse things even more, light, which had been thought of as a wave, seemed to sometimes behave as particles. This famous wave-particle duality forced the community of physics to develop a new theory to resolve the paradox. This theory was called the theory of quantum mechanics.
Module 1 - Introduction To Architecture/Tour of Cambridge
The introduction to architecture will provide you with an overview of what it is like to study the subject at the university level and an insight into current practice. Following this, you will embark on a tour of Cambridge to sketch moments and details of architectural interest.
Module 2 - Foundations of Architecture
The foundations of architecture are examined through some of its early historical examples. The elevation is perhaps the most familiar and accessible form of architectural depiction, and this will be examined in reference to the variety of architectural styles found in Cambridge. You will apply what has been learnt by constructing an elevation of your own 'found object'.
Module 3 - Architectural Styles Through Time
This session traces the evolution of architectural theory through an examination of the architectures between the 16th and 19th centuries, including Palladian architecture and the Gothic Revival. Practical exploration will focus on the plan which will then inform a practical workshop in which you will delineate your own plans to scale using found objects, with particular emphasis on the use of line weights and the notations of architectural drafting.
Module 4 - Theoretical Design Project
After presenting your work on a chosen topic, you will be taken to the site of your theoretical design project. Whilst there, the tutor will present the requirements of the design brief and suggest points of interest to begin a design discussion. The remainder of the session will be spent on-site sketching ideas and key aspects of contextual value.
Module 1 - Planet Earth
In this module, you will take a look at our planet from an Earth Science perspective, including the principal chemical, physical and biological processes operating on the planet today as well as throughout Earth's history. Some of the topics we may explore include nucleosynthesis, solar system formation, moon formation, terrestrial planets, meteorites and more, in order to gain a thorough understanding of the systems that make up our universe.
Module 2 - Fundamentals of Geology
This module examines the fundamentals of geology, a core aspect of any Earth science programme. You will have the opportunity to survey the important mineral groups and examine how they naturally occur, exploring the bonding forces in crystals, the packing of individual atoms and molecules within mineral structures, their interaction with light and fundamentals of petrographic microscopy, and the thermodynamic controls on mineral composition and structure.
Module 3 - Structural Geology
In this module, you will apply what you have learned in the fundamentals of geology to practical work, dealing with the techniques of structural geology, and the interpretation of geological maps in structurally complex terrain. This module will prepare you for your personal independent mapping project where you will showcase what you have learned in a solidified piece of work.
Module 4 - Sedimentary Processes
Sediment is a naturally occurring material that is broken down by processes of weathering and erosion, and is subsequently transported by the action of wind, water, or ice or by the force of gravity acting on the particles. In Earth Sciences, the sedimentary processes are concerned with the physical, chemical, and biological processes that generate sediments at the Earth's surface. In this module, you will learn the basic principles of common sedimentary processes looked at in this field, building on knowledge gained in previous units of study.
Module 5 - Biology & Oceanography
In this unit, you will explore some of the basic principles of biological oceanography, examining the relationship between the physicochemical properties of the marine environment and planktonic communities, such as phytoplankton, bacteria, and zooplankton. Likewise, you will take a look at the use of in situ and satellite observations to study the spatial and temporal patterns in the distribution and abundance of marine organisms. As a class, we will discuss the role of ocean biota in global biogeochemical cycles based on our built understanding.
Module 1 - Medical Research And Science Communication
The increased longevity of humans over the past century can be significantly attributed to advances resulting from medical research. Major benefits have included vaccines for measles and polio, insulin treatment for diabetes, classes of antibiotics for treating a host of illnesses, and new surgical techniques such as microsurgery. But how are these discoveries made, and who makes them? Scientific research is a process of small steps, occurring over years or decades, costing millions, and requiring painstaking work undertaken by vast teams of scientists and clinicians. Spanning various disciplines, in this topic, you will focus on the principles and methods of medical research, in particular the journey of lab bench discoveries to the patient bedside, clinical trials, and careers in medical research. You will also cover the importance of communicating scientific and medical research to the community, as well as the pros and cons of each method of communication.
Module 2 - General Anatomy And Physiology
The human body is a finely tuned and complex machine. Its study can be traced as far back as the embalming of the Pharaohs of Ancient Egypt! Our understanding of anatomy has greatly increased since the development of novel technologies, allowing us to uncover the organs' microstructures, but scientists across the globe are still focused on uncovering its secrets. Anatomy and physiology are the sciences behind the structures of the body and their functions. In this topic you will explore the different systems of the human body (skeletal, muscular, digestive, respiratory etc) and how they're connected, in order to provide an overview of the human body as a whole. You'll then explore the key systems in-depth, looking at the characteristics and micro anatomical features of several organs through dissection.
Module 3 - Genetics and Epigen
In the 60+ years after the discovery of DNA's structure, there has been astonishing progress in our understanding of gene function and variability. Genes are a segment of DNA passed down from parents with certain traits to their children. Genes are organised and packaged in units called "chromosomes". After going over chromosomes' structure, you will first focus on understanding the replication, transcription and translation of DNA, from nucleic acid to protein synthesis. You will also explore the role of the environment on genetics. Finally, you'll consider the most recent breakthrough in genetic engineering, CRISPR gene editing, a tool which allows virtually unlimited editing of the genome of any species.
Module 4 - Science Conference
You will partake in a mini-science conference where you'll present a research topic assigned earlier in the week. You will be encouraged to view each other's work critically, ask follow-up questions and engage with the subject matter.
Module 1 - An Introduction To Psychologys
Psychology is surprisingly hard to define. Broadly speaking, it is the study of the mind and behaviour, yet this definition raises more questions than it answers. Psychologists study how we think, feel, and make decisions, as well as the unconscious processes and the neural mechanisms that underpin them.
Module 2 - Foundations of Psychology
In this module you will gain a strong understanding of the foundations that underpin psychology. Exploration will include a deep dive into the four pillars of psychology that include the basic psychological processes of living beings and their applications in day-to-day life. You will also take a look at how those in the field of psychoanalysis evaluate cognitive processes, learning, memory, motivation and emotion, as well as personality and intelligence of individuals.
Module 3 - Child Psychology
Childhood is a time of rapid growth and development, and studying these changes is endlessly stimulating. In this module, you will explore key questions that underpin the study of child psychology such as what influences child development, and how psychologists study the physical and cognitive changes that occur during childhood.
Module 4 - Experimental Psychology
In this module, students will explore the key areas of experimental psychology including philosophy, linguistics, neurophysiology, probability theory and statistics.
Module 5 - Clinical Psychology
In this module, you'll gain an understanding of what clinical psychology entails, including the use of direct observation, interviews and techniques such as psychometric testing, as well as how psychological intervention in the clinical setting requires shared decision-making with the individual, and often their carers and family members.
Module 6 - Developmental Psychology
Developmental psychology is the study of how and why humans grow, change and adapt across the course of our lives.
Module 7 - History of Psychology Studies
While psychology is still a relatively new discipline, approximately 150 years old, its roots can be traced back to Ancient Greece when renowned philosophers such as Plato and Socrates, discussed topics often still explored in psychology today such as memory, free will versus determinism and nature versus nurture.
Module 1 - Introduction to Coding
Coding is the process of telling a computer what to do. You provide the computer instructions via 'code', the computer's language, in order for it to perform a specific action. This can be as simple as adding code on a webpage to change the colour font to the code that informs traffic lights to change behaviour based on the flow of traffic. Coding is now integral to a vast number of industries, including healthcare, businesses, and schools (to name a few). In this module, you'll learn the basics of coding, establishing a foundation that will be built on throughout the rest of the course.
Module 2 - Introduction to Python
In this module, you'll explore the most widely used programming language: Python. You will learn how to interpret error messages as well as read basic Python syntax, all while forming an understanding of basic programming concepts. You will have the opportunity to apply your understanding of Python to the real world by creating your own simple app designed to solve a problem.
Module 3 - Introduction to Game Design
This module takes a look at coding through a game design lens. You will learn how to use code to custom behaviours and game mechanics using coding best practices. By the end of this module, you will have a firm understanding of essential programming concepts such as variables, branching, looping, events and how these tools are the building blocks of game design.
Module 4 - Java Coder
In this unit, you will be introduced to Java Coder meanwhile learning how to theoretically examine coding logic using flowcharts and pseudo code. You will continue building on your understanding of coding best practices built in previous units as well as learning how to solve coding problems through solution building, as well as learning how to write code independently. You will also learn how to minimise the number of lines of code and functions in order to develop a more efficient coding process.
Module 5 - Coding Languages
In this unit, we will take a brief look at the various coding languages available to use in computer programming for different purposes. You will learn the differences between coding languages and develop an understanding of the languages that are easier and more convenient to use for different purposes. We will explore certain programming languages that are more machine-friendly, making them faster to execute and more memory-efficient, but harder for humans to understand.
Module 6 - Web Development Masterclass
The growth of languages like JavaScript and frameworks like Angular, React, and Node JS have over the years made web development a lot easier and faster. In this unit, we'll take a look at how JavaScript and the relevant frameworks work together to provide the essential tools for web development and apply these to your own web building project.
Module 7 - Coding for Mobiles & Apps
Did you know that the average mobile phone in 2022 is faster than the average computer ten years ago? Coding has played a pivotal role in the way phones work, which is why in this module we'll take a look at how coding has changed over time in relation to mobile devices and the revolutions in mobile app development. You will apply your knowledge to create a more complex mobile app, using programming concepts to solve problems and build user-oriented solutions.
Module 8 - Design and Analysis of Algorithms
An algorithm is a sequence of steps used to solve a problem in computer programming. The design and analysis of algorithms are essential when designing processes to solve different types of problems in the branch of computer science and information technology. This module introduces the fundamental concepts of designing strategies, analysis of algorithms, as well as graph theory and sorting methods. By the end of this unit, you will also have a basic understanding of the Complexity Theory and its applications in the world of coding.
—
University Application Preparation
—
* During the program, students can choose the different topics they want to participate in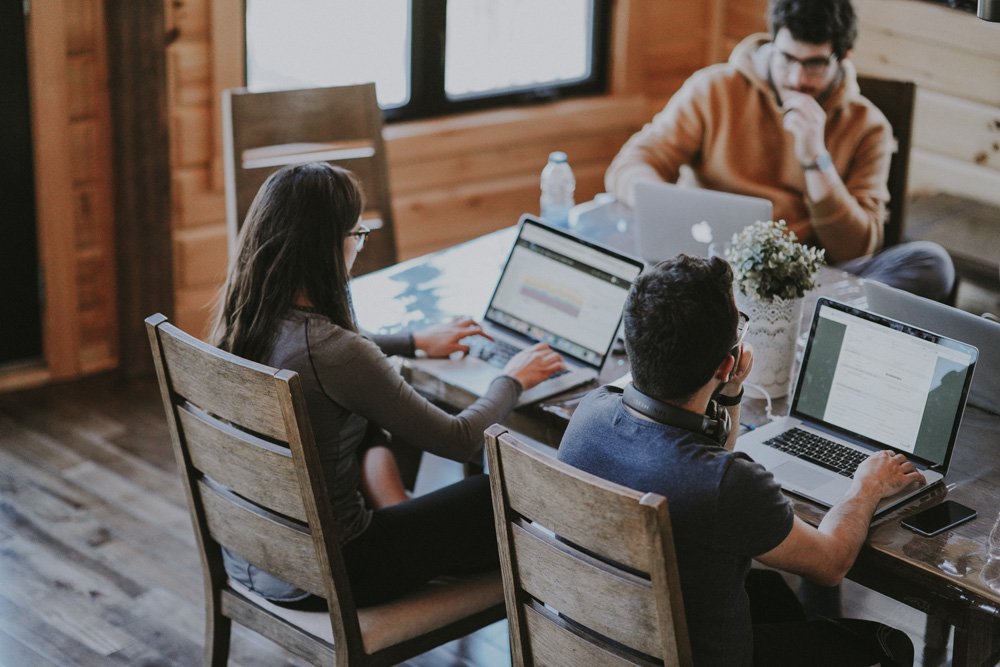 University Application Preparation
Interview Skills Workshops
In the interview skills workshops, students will gain insight into the core skills required to successfully articulate their viewpoints in a pressured environment. These workshops focus on developing the confidence and intellectual tenacity required to tackle some of the key questions that might be asked during an interview. In addition, this workshop also addresses debates surrounding some of the most pertinent issues within the discipline at the moment.
Personal Essay Consultations
Over the duration of the Cambridge programme, students will receive expert assistance in developing drafts of their personal essay required for university applications across the world. Students will learn techniques to concisely articulate their interest in a particular discipline.
Certain subjects, such as medicine or law, require that prospective applicants to UK universities complete an aptitude test such as the LNAT (National Admissions Test for Law) or UKCAT (UK Clinical Aptitude Test). Other universities require that applicants for humanities studies sit for the TSA (Thinking Skills Assessment). These optional sessions provide participants of Cambridge Immerse with guidance and insight into the best ways for preparing for these tests.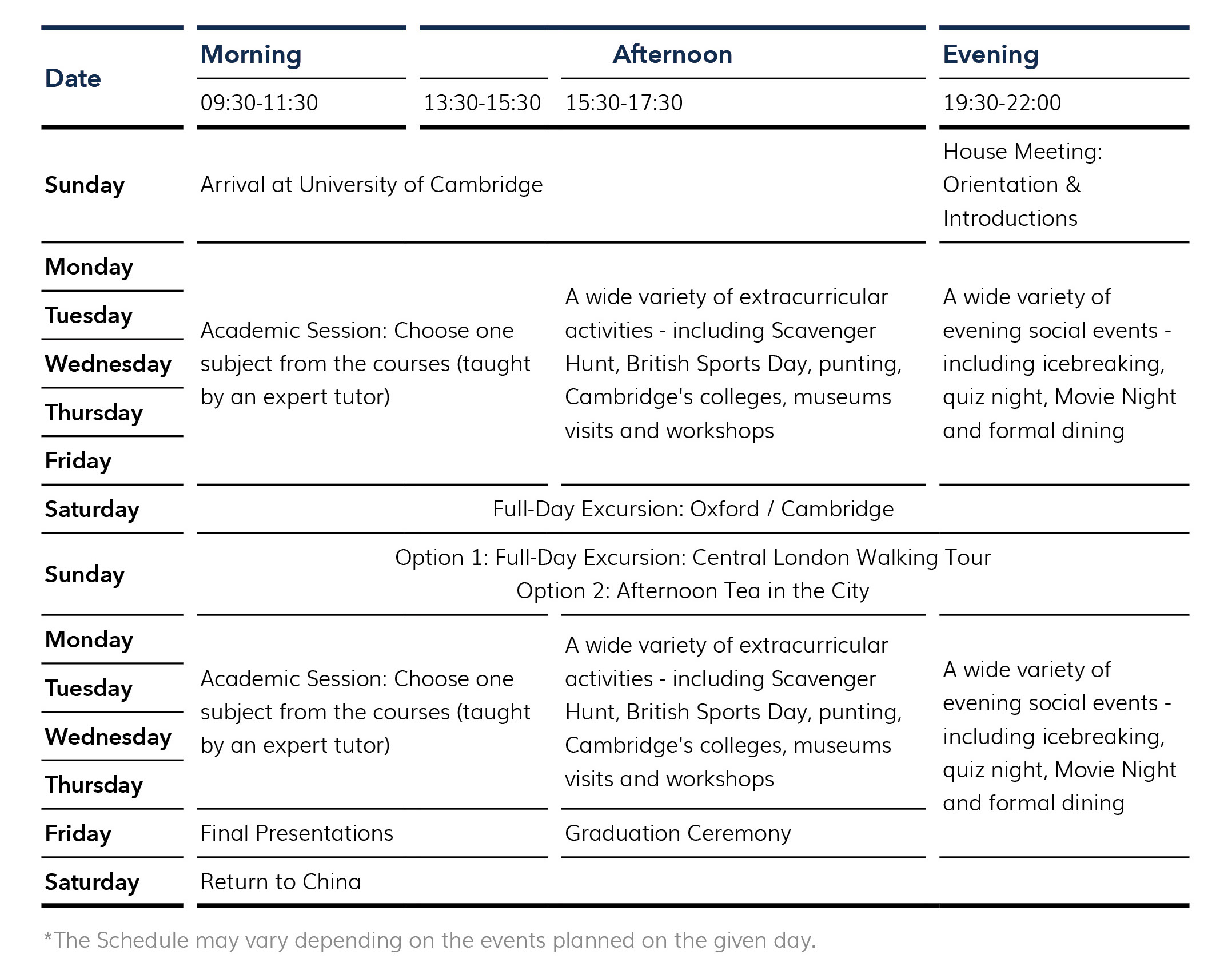 —
Accommodation
—
Live in Historic Cambridge Colleges. Students will be accommodated in one of these six colleges during the programme. All participants will be accommodated in their own individual bedrooms.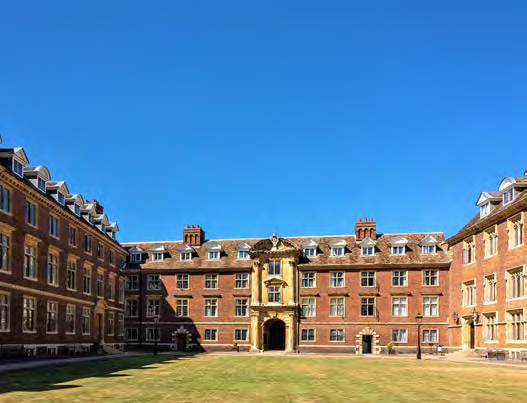 St Catharine's College (Age 16-18)
Founded in 1473 by Robert Woodlark, St Catharine's College is a welcoming community of students, staff and Fellows in the heart of Cambridge.
Christ's College (Age 16-18)
Christ's College was refunded as Christ's College in 1505 by order of a Royal Charter from the King. The College is often described as an oasis of calm in the heart of the city, including beautiful herbaceous borders and tranquil gardens laid out over four courts.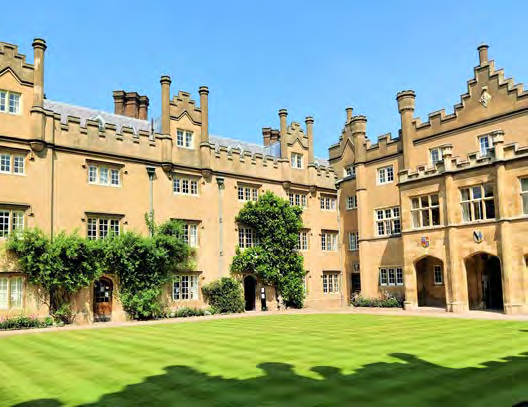 Sidney Sussex College (Age 16-18)
Sidney Sussex is located in the very heart of Cambridge. Founded in 1596 Sidney Sussex is a very well-kept secret. All participants will be accommodated in bedrooms with en-suite bathrooms in the Blundell building.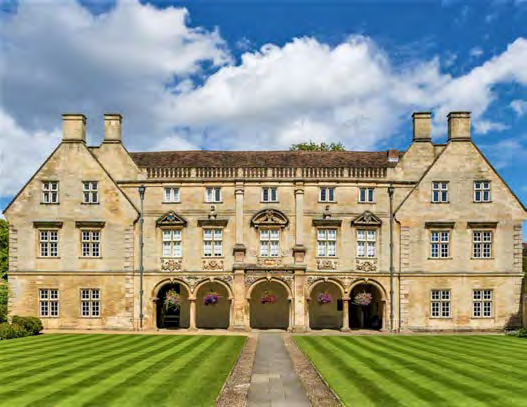 Magdalene College (Age 16-18)
Though dedicated to St Mary Magdalene, the College is actually pronounced 'Maudlyn' to sound like the name of its founder, Lord Audley, in 1542. Magdalene College sits on the banks of the River Cam, providing a peaceful setting just a few minutes' walk from Cambridge city centre.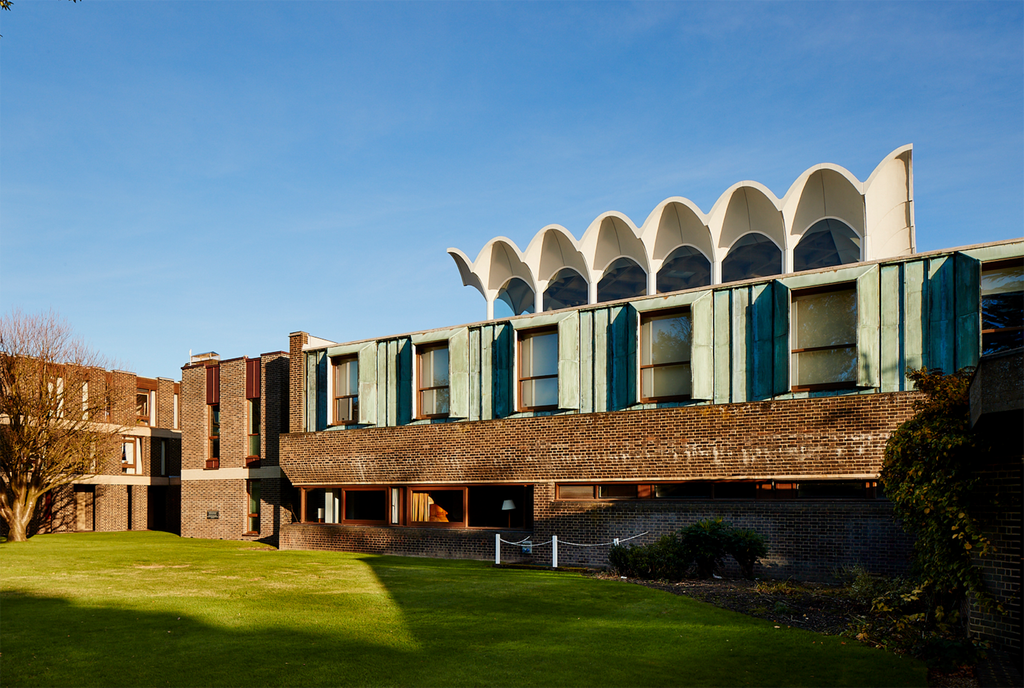 Fitzwilliam College (Age 16-18)
Fitzwilliam began in 1869 as a non-collegiate institution, providing Cambridge education to undergraduates who were unable to afford membership of a college. In 1966, 'Fitzwilliam House' received its Royal Charter becoming Fitzwilliam College.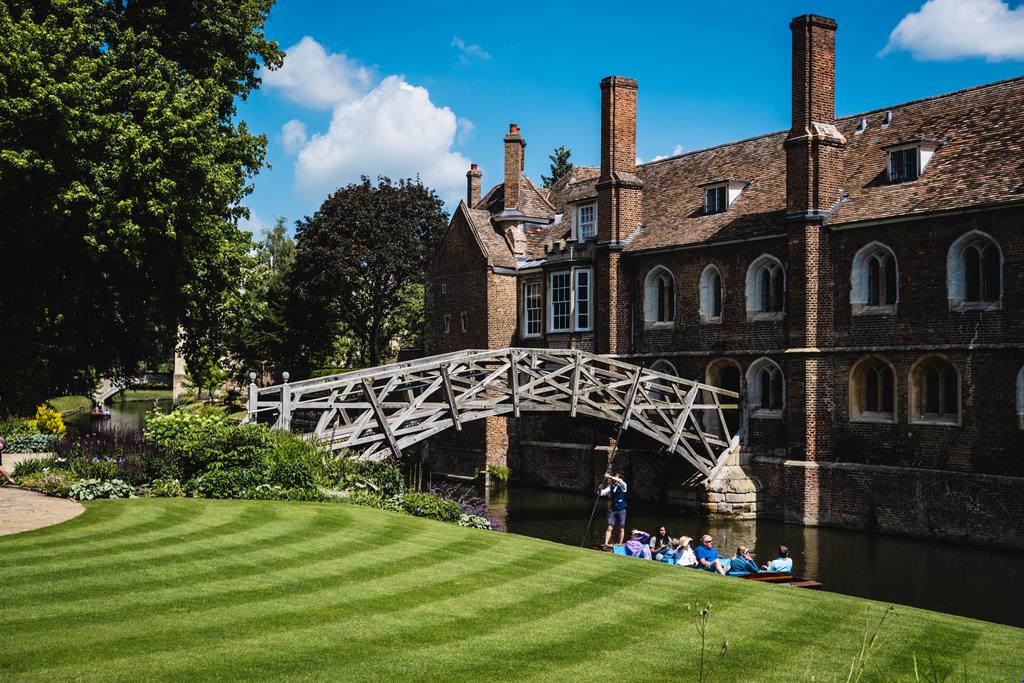 Queen's College (Age 13-15)
Queens' College is one of the oldest and largest colleges of the university, and has some of the most recognisable buildings in Cambridge. The college spans both sides of the river Cam, with the world-famous Mathematical Bridge connecting the two sides.
【Academic Requirements】
13 - 15years old: English language level quaivalent to IELTS level 5.5 or TOEFL 70
16 - 18years old: English language level quaivalent to IELTS level 6.5 or TOEFL 90
Recommendation letter from you teacher as proof of English proficiency or a phone interview with an ASDAN staff member


- Priority for students who have gained an ASDAN CoPE/AoPE certificate
【Other Requirements】
There is a 13 and 16 strict age minimum by the start of each programme;
There is a limited number of vacancies for each course, places are assigned on a first come, first served basis.
【Fee】
• Include:
Tuition, accommodation, breakfast, dinner, activities, excursions fees; ASDAN group leader service fee; Local transportation fee between London airport and Cambridge University ; International insurance
• Excludes:
International transportation costs to and from London (departure and arrival from Beijing/Shanghai/Guangzhou(Hong Kong), you can use a third-party service or ASDAN China's unified service; Visa fee & visa service fee (2000 RMB); Lunch (High school participants are expected to provide their own lunch); various eateries are located around Cambridge, suggested budget of £5-10/lunch